Many watch aficionados desire to own a Swiss watch. And why not? It is the very definition of a luxury watch. 
Swiss watches, such as Patek Philippe and Rolex, are known globally for their high-quality functioning and designs. Most importantly, Swiss watches' components are intricately-designed. In short, Swiss watches are the best.
But, why exactly are Swiss watches so expensive? That's what we're going to find out in this post. And to start on the right foot, allow us to define first…
What is a Swiss Watch?
The answer is in the name itself. A swiss watch is a timepiece made in Switzerland. But does this mean being "Swiss-made" means it is 100% made in Switzerland? The short answer is no. The label Swiss-made in a watch means that it meets high-quality standards observed in Swiss trademark law.
The five main points of being a Swiss watch are:
The watch movement is Swiss
The movement was cased up in Switzerland
The watch is manufactured in Switzerland
At least 60% of the manufacturing costs of the said watch were based in Switzerland
The final inspection of the timepiece happened in Switzerland
What does "cased up" in Switzerland mean?
When a watch is covered with an outer shell or put into its casing, it should be done in a way that maintains its movement and integrity. During the casing up process, there are different techniques used to test the watch to ensure that its operations will not be impacted by changes in air pressure, humidity, and other external factors.
A watch that is cased up in Switzerland means that the casing up process was done in Switzerland. Keep in mind that a timepiece may be assembled in Switzerland, but cased up in another country. If that's the case, it will not be as good as a Swiss watch.
[Related post: Affordable Swiss Watch Brands]
Why are Swiss Watches so Expensive?
Watch Movements
The beating heart of a Swiss watch or its movement is an intricate mechanism that comprises hundreds of moving parts. All of these parts work together to keep track of time.
For instance, there's that new Rolex 3255 movement in some Rolex watches with date displays. Such a movement takes years to craft and perfect. Then, it has to be assembled by hand so it will function for centuries.
Rolex watch movements are prized as some of the most robust and precise calibers currently existing in the watch industry and have contributed to the brand's credibility as the top three watch brands in luxury watches.
All Swiss-made movements should have extremely high precision before they are marketed to the public. And because of the quest for high precision, Swiss watch brands continue to strive for advancements.
Meanwhile, Breitling has its in-house B01 movement, giving the brand complete control over the precision and reliability of its timepieces. On the other hand, Patek Philippe's Grand Complications feature great finishes, a perpetual calendar feature, and split-seconds lever construction.
Top-Quality Components
Swiss watches are made with high-quality components, like gold, titanium, and other precious metals, that are proven to be durable and can last for years. 
And one of the reasons why Swiss watches are so expensive is because only the richest of materials are utilized in the making of said watches. These high-quality materials are durable and accurate.
Take, for instance, the Audemars Piguet Royal Oak with components made in diamond and gold that make the model. Then, there's the Patek Philippe that costs more than the best-paid executive's yearly salary.
These most luxurious Swiss timepieces in the world cost as much as they do because they use a plethora of materials. Some brands even increase the copper content in their timepieces to the extent that you get what is euphemistically called the "red gold watch."
There are also watches that use white gold and platinum that add a lustrous look to a watch. The Rolex Lady Datejust, for example, uses such material. Then, there are innovative materials, like ceramic, which is light and as resilient as the sapphire crystal. Ceramic is ideally used in sports watches.
History
Switzerland's watch industry overcame adversity on countless occasions. Time and again, there is fierce competition from American manufacturers. 
Plus, there were other factors that challenged (and even continue to challenge) Switzerland's watch industry, including industrialization, handmade craftsmanship, the popularity of smartwatches, and the invention of more accurate quartz watches from Japan.
Despite all these adversities, watch manufacturers from Switzerland continue to evolve much stronger than ever. They even invented ingenious and contemporary products that use cutting-edge technology. All these make Swiss watches stand out and be considered luxury timepieces.
[You may also like: Lucien Piccard History]
Production Time
Did you know that the average time to produce a Swiss watch takes about three to five years? In some exceptional cases, it may even take longer than 5 years. Again, this is just an average time and it still varies, depending on the complexity of the timepiece as well as the number of complications.
That's why when you buy a Swiss watch, you are not just paying for the materials, but the time it takes to put them all together into a wristwatch. It may sound cheesy, but it is true.
From start to finish, watchmakers are working to tolerances – maximum seconds per day it may win or lose – within 3 to 4000th of a millimeter. Anything that is less than that could make the timepiece unreliable. That's why the effort to achieve Swiss perfection is challenging and demanding.
You also pay for the investment that watches brands sink into the Research and Production of their watch models.  They spend years of R&D to refine each step of the process, including specialized dial mounting, finishing techniques, long-power reserves, and in-house movements.
You see, every facet of watch production is followed and detailed to the tee. Brands like Vacheron Constantin and Rolex craft their stainless steel alloys. 
Rolex's proprietary alloy is referred to as Everose. Others use 316L steel. For Omega, it has its rose gold version called Sedna gold. 
Impeccable Craftsmanship
Swiss watches value labor – experts labor, at that. The hand-decorated and -assembled movements take lots of time to complete and watch companies are paying the salaries of these expert watchmakers.
Let us give you an example. Are you familiar with British man Roger W. Smith? 
He is famous for handcrafting watches that match up to a peerless standard of horological excellence. He is also the apprentice of George Daniels, the best watchmaker of the 20th century.
Believe it or not, it takes him about 11 months to create just one month. Together with this team, they create only twelve watches each year. If you think of the 11 months worth of salary of this man, you'll know it would be something big.
"I make no apology for being a purist," he shared on his official website. So, considering the time and effort he took to create the watch as well as his craftsmanship, it makes sense why a Swiss watch got such a high price tag. The hand finishing techniques make a watch more desirable, especially to watch collectors. 
All these are what you are paying for, not just a quick mass-produced timepiece. 
What exactly is a "handmade watch"?
Unlike assembly line timepieces, a handmade luxury watch is one in which every single part has been pieced together by watch engineers and artisans. The process is time-consuming, yet these watches are much rarer the reason why they gained such an exalted position in the world of luxury.
The Blancpain 1735 Grande Complication, for instance, has 740 handmade parts. The A. Lange & Söhne (a German manufacturer of luxury watches) employs 70 people in its finish department alone, wherein they handle the rudimentary aspects of watchmaking: graining, chamfering, and polishing.
Exclusivity 
A Swiss-made watch is not just manufactured with a higher amount of time. They embody exclusivity, adding to the feelings of luxury and prestige. What you pay for is not just the production time and materials, but the fact that at most, only 5,000 people are going to wear the same wristwatch all over the world out of 7 billion.
What's more, just by their appearance, Swiss watches invoke luxury and many luxury watch enthusiasts are willing to pay the price tag for that prestige. Even when the Covid-19 pandemic caused the shut down of some Swiss factories, wealthy people are still buying expensive watches.
Some of the most popular Swiss watch brands based on their estimated sales are Rolex, Omega, Cartier, Longines, Patek Philippe, and Tissot.
Most Expensive Swiss Watches in the World (2022 List)
1. Rolex Daytona (Swiss-Made Watch)
Rolex Daytona is the most expensive Swiss-made watch ever sold. In 2014, one of the four Daytonas ever made was sold for $4 million. This watch features stylish chronograph subdials.
Although there are other more affordable luxury watches, like Bulova 96B113, Alpha Paul Newman, and Tudor Black Bay Chrono, Daytona still has a more intricate design. It also comes with its black Cerachrom and an oyster bracelet.
A key part of this watch's identity is the bezel that is molded with a tachymetric scale to measure the average speeds of up to 400 miles per hour.
2. Graff Diamonds Hallucination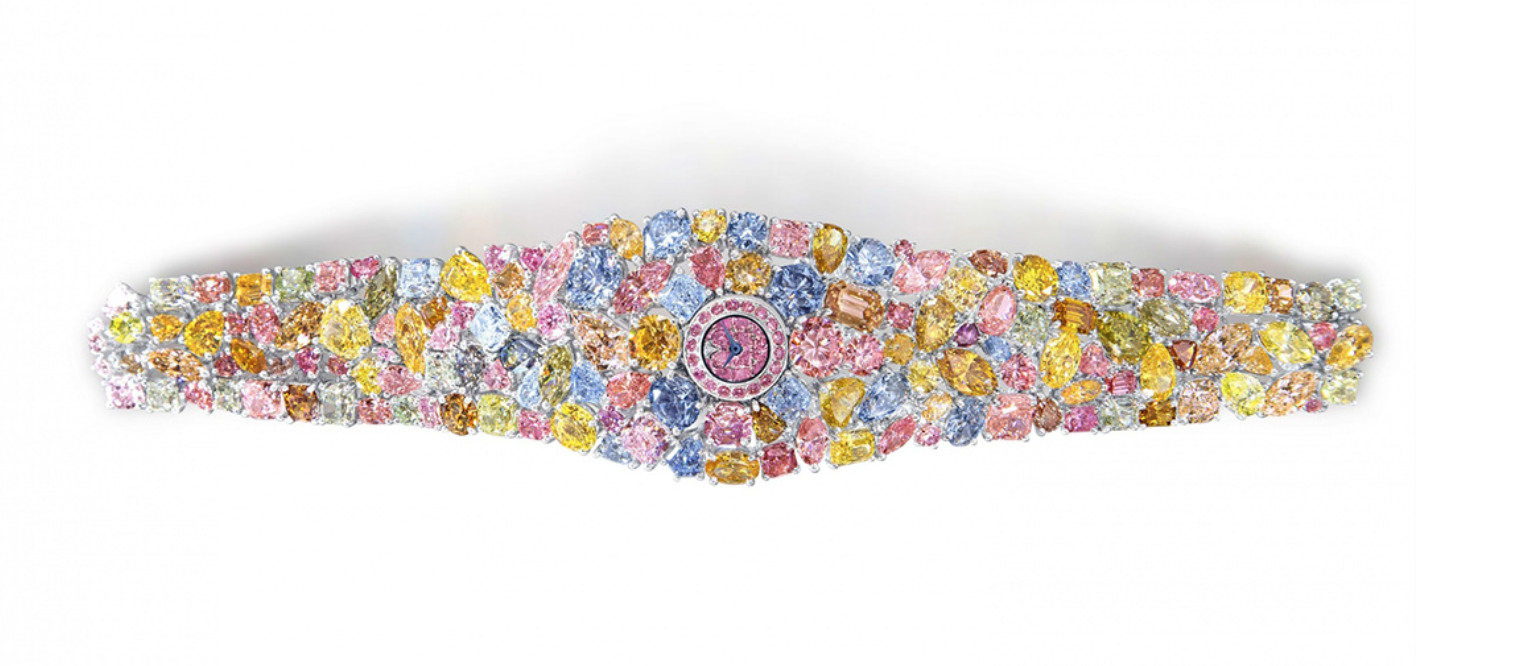 Graff Diamonds Hallucination claimed the title of the world's most expensive watch. Luxury and opulence at its finest, the watch costs about $55 Million. It is a watch set into a platinum bracelet that comprises 110 carats of rare colored diamonds from various finishes and cuts.
It's a truly one-of-a-kind statement piece. If you find it hard to purchase the Graff Diamonds Hallucination, you can still make an electrifying entrance to parties by wearing the Graff Diamond – Rose Gold Haute Joaillerie Pavee Diamonds Watch.
3. Patek Philippe 5004T
If you love sports watches or timepieces that have a sporty look into it, then you will like this next watch on our list. It's the Patek Philippe 5004T that was valued at about $3.9 million. 
This watch was built and designed specifically for the auction.  Its titanium body plus contrast stitching create that sporty look into it. But just because it may look like high-end dive watches or mechanical watches you see online it means it is of lesser quality. 
In fact, it is still as luxurious as other models from the same brand. Take a look for instance at the Patek Philippe Ref. 1518 valued at $11 Million.
Final Thoughts: Are Swiss Watches Worth the Price?
Yes! Swiss watches pass scrupulous conditions to be classed as Swiss-made. Bearing that mark already guarantees that the watch has outstanding performance and high-quality craftsmanship.
Of course, you can wear a functional watch for $20 that will work for a few years, but if you want something that will last for generations and would still function optimally, it is worthwhile to invest in a Swiss watch.
My name is Eve Acosta and I'm the person behind this site. Watches are what get me ticking ;).
No, but seriously, I just love watches, I have over 30 myself. It's an obsession of mine, which is why my husband recommended me to put my hobby into some good use and build this site – so I did.
My passion for timepieces came from the fact that my parents own a small chain of shops selling timepieces. I've worked at the shop since I was 11 and fell in love with the merchandise.