Beauty may be in the eye of the beholder, yet some beauties turn people's heads more than others.
This statement applies to watches too. Some watches traditionally hold value better than other investments despite an economic slump. 
The watch industry considers these the cream-of-the-crop luxury watches because they appreciate value over time. And, as you know, value retention is an important aspect to keep in mind when buying a good timepiece.
So, if you're curious about these luxury watches, you're in the right place. Listed below are the best watches with the highest value retention. 
But before that, let's find out why some brands hold their value and others don't.
Why Do Some Watch Brands Hold Their Value and Others Don't
Timeless Design
The watch world has produced several flawlessly designed, stylish, and aesthetically pleasing watches. One of which is the Cartier Tank, created in 1917. A century has passed, and the watch's rectangular case, slanted Roman numerals, and Art Deco dial remain almost unchanged.
Such is the epitome of class and elegance that makes such a timepiece popular, especially among women. Therefore, buying a watch with a timeless design has a higher probability of appreciation in time. You can buy it without worrying about a significant loss of value.
Aesthetics and Dials
While every watch collector will recommend you to purchase a watch you love, you can't gauge the value retention or resale value of a piece simply because of looks. 
Sometimes, watch collectors buy timepieces because they like the design or theme (all gold watches, blue dialysis, all diver watches).
High Demand and Limited Availability
The law of supply and demand applies to watches too. Therefore, you'll have the best chance of finding a timepiece that increases or holds its value when they're a classic model and comes from an established brand.
Watches from Rolex, Patek Philippe, and Audemars Piguet are in high demand. A buyer often has to wait months or years before being sold at brick-and-mortar retailers. 
The high demand but limited availability of watches drives the prices up to dizzying heights, especially on the secondary market.
Exclusive Mechanical Movements
Another factor that's just as important as prestige in a watch buyer's decision-making process is the movement inside the watch.
The watch community values the in-house movements or calibers manufactured by the respective brands more than large-scale-produced ones, such as Miyota, Sellita, and ETA.
Watches like the Omega 321 and its successors and the Zenith El Primero (the first automatic chronograph caliber in the world) are highly desirable movements.
With Original Box and Papers
The watch's condition affects its resale value. You are more likely to get a reasonable price for your timepiece if it is better preserved and comes with its original box and papers. 
So, treat your watches with as much care as possible and take good care of the box and papers. 
Must Read: How Much Is A Rolex Worth Without Papers?
Brands and Lines
Certain brands and lines retain their value better than others. For example, a Rolex Daytona may be more in demand than other Rolex watches.
Similarly, a Patek Philippe has a higher resale value than the brand's other lines.
Now, let's focus on what these watch brands appreciate more in value than others.
Top 9 Watch Brands That Hold Their Value the Most
1. Rolex
When it comes to watches, Rolex is the one that consistently holds value the most. It produces the most exclusive and sought-after pieces.
The Rolex Submariner, for instance, is one of the most well-known models and a modern classic by the famed Swiss watchmaker.
Rolex investment pieces consistently retained their value and stood out over the years. So, you can expect the trend to continue, whether buying a pre-owned or brand-new Rolex watch.
Which Rolex watches keep their value?
Daytona (especially the Cosmograph Daytona model)
Day-Date
Sky-Dweller
GM-Master II 
2. Omega
Omega may be less costly than other luxury watches, but timepieces from this brand hold their value the best. One of the best models to consider is the Seamaster Professional, especially those without a ceramic bezel.
The Omega Speedmaster special editions, such as the Dark/Grey Side of the Moon watch and the Silver Snoopy Edition, hold their value well. Other recommended models for investment are the Constellation and Seamaster collections.
3. Patek Philippe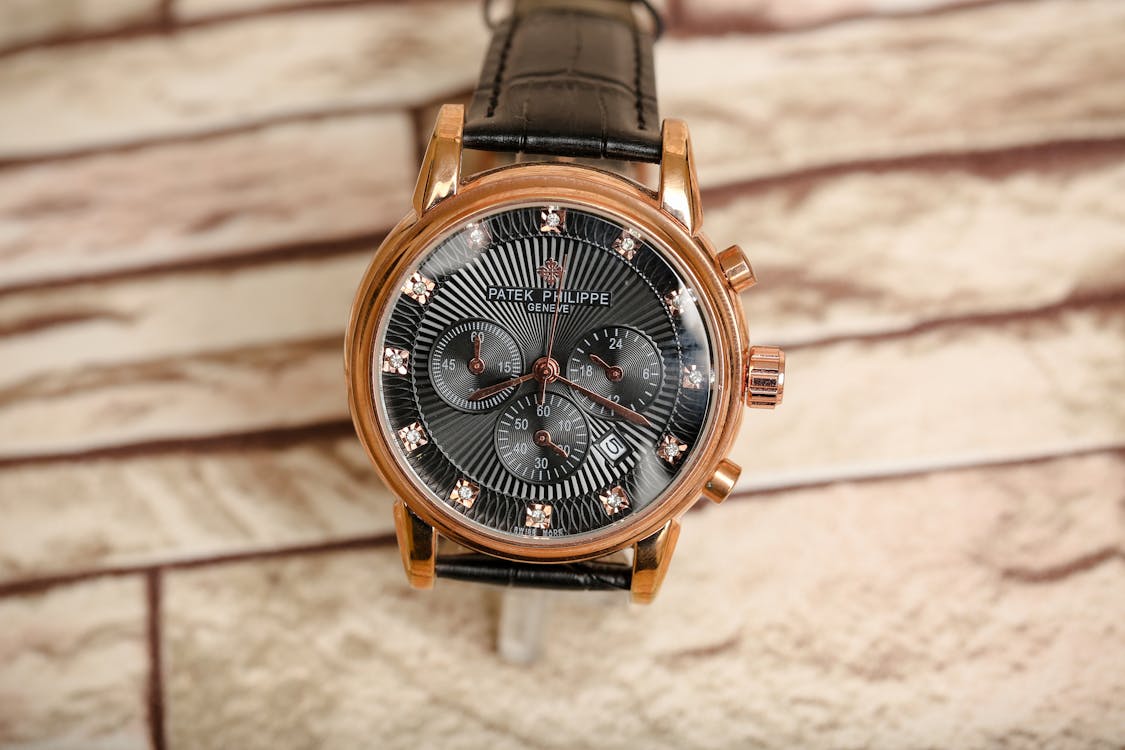 This watch brand has shown a high return on investment over the years.
They hold great value because many Patek Philippe watches are unique. Their watches have attractive accents and amazing features that result from the brand's policy of encouraging their employees to participate in the design process.
Some people in the watch industry even say that you don't own a Patek Philippe. Still, you're looking after it for the next generation because their timepieces are known for continued popularity and longevity.
The Patek Philippe Nautilus and Calatrava boast huge fans, ensuring that there is always an avid market for these models.
4. Audemars Piguet
Audemars Piguet watches hold their value well, although on average, compared to Rolex and Patek Philippe. However, the Audemars Piguet Royal Oak is one of your best bets. 
If you enjoy watch compilations, AP won't disappoint as they have high-end mechanical watches. 
They have perpetual calendars, tourbillons, retrograde, moonphase, dual time zone/GMTs, minute repeaters, chronographs, and more mechanical features. All these provide more function in an AP timepiece than just telling time.
5. Jaeger-LeCoultre
Jaeger-LeCoultre holds its value quite well. Most watches come with a beautiful design and are priced at a smart deal for anyone interested in investing in watches.
Jaeger-LeCoultre is one of the world's most iconic luxury watch brands.
The watch brand alone is recognized as one of the most inventive and creative watchmakers because of its high-complication timepieces.
It is also known as the "Grande Maison" among watchmakers, which means the big house. Its founder Antoine LeCoultre started the activity by handcrafting exceptional timepieces in a small workshop in the Vallée des Joux.
Later, Jaeger-LeCoultre became a high-end Swiss watch brand. It's even the luxury watch choice of famous entertainment and sports celebrities like Serena Williams, Janelle Monae, and Quincy Jones. 
Must Read: Where To Sell Jaeger LeCoultre Watches
6. Vacheron Constantin
Vacheron Constantin is next tier to Rolex and Patek Philippe regarding resale value. It has a record-breaking heritage of producing complicated timepieces. 
For instance, it has produced the most complicated wristwatch, the Tour d'Ile. It was made only in seven examples to celebrate the brand's 250th anniversary. But of course, its tradition of beautiful design and incredible innovation is not limited to watch movements.
The dials and cases of the Vacheron Constantin watch likewise demand respect for their diversity and inventiveness. Some of the best watches from this brand include the Fifty-Six Self-Winding and the Historiques American 1921 Pink Gold.
Worth adding is that Vacheron Constantin has one of the highest finishing levels in the industry. Some of its timepieces even transcend their timekeeping purposes and become a work of art.
So, whether modern or vintage, Vacheron Constantin represents an excellent investment in heritage, artistry, design, and complications. For these reasons, watch enthusiasts love the brand.
7. Breitling
Breitling is another brand that holds its value well and can last for years. Their watches are known for their exceptional precision and quality.
Moreover, the label "Made by Breitling" alone suggests uncompromising testing, strict quality control, and the use of the finest materials.
What many collectors love about this brand is its close connection to aviation. From the start, its Chronomat featured top-notch movements and has become popular among pilots. In addition, they produced the Navitimer, which revolutionized the aviation industry because of the circular slide rule on the bezel.
Famous models include the Breitling Avenger II Seawolf, Breitling Navitimer 8 B01 Chronograph 43, and the Breitling Superocean Heritage.
8. TAG Heuer 
TAG Heuer is always present when asked which luxury watch brands hold their value best, TAG Heuer is always present, and we know why.
For more than 150 years, the brand has been creating timepieces with precision. Its name has even become synonymous with racing and sports. Moreover, you'll always see a TAG Heuer watch at some iconic moments in sports.
For anyone considering buying a TAG Heuer watch that holds value, begin your watch market research with their flagship Carrera and Monaco models.
9. A. Lange & Sohne 
This German watchmaker is famed for its timepieces, especially those that feature the Caliber L951.1. It is a hand-wound movement described by top watchmakers as an actual work of art. 
The A. Lange & Sohne has been one of the finest watchmakers since 1845. Every component developed and designed in-house uses either nickel or silver. Expert artisans assemble each piece with care.
Newer models from this brand have a good resale value, but not as much as their older models. 
Buying pre-owned is often an excellent way to reduce your loss on a timepiece. For instance, the retail price of the brand-new Saxonia Datograph Perpetual Calendar Tourbillon Limited Edition is US$307,000. Still, the same watch is roughly around $229,950 in the second-hand market.
Must Read: How To Store Watches To Keep Them In Good Condition
Give Your Watch a High-Value Retention
We highlighted above the top 9 watch brands that hold the most value and the essential criteria that make a watch have its value.
Consider these brands and tips in mind for your next watch purchase, and you won't likely face significant losses if you decide to resell the luxury watch someday.
But if you ask me whether a watch does have to hold its value to be considered a good purchase, my answer is no. 
Good value retention doesn't make a timepiece more beautiful or run any better. For most watch lovers like me, it's less about earning high returns than making a purchase that loses as little value as possible.
If you enjoyed this review, please read our other reviews at EvesWatch.com.
My name is Eve Acosta and I'm the person behind this site. Watches are what get me ticking ;).
No, but seriously, I just love watches, I have over 30 myself. It's an obsession of mine, which is why my husband recommended me to put my hobby into some good use and build this site – so I did.
My passion for timepieces came from the fact that my parents own a small chain of shops selling timepieces. I've worked at the shop since I was 11 and fell in love with the merchandise.