Have you ever wondered what watches do Navy Seals wear? There are loads of military watches built for some professions because of the job's credentials. Even though these timepieces might not appeal to average watch lovers because of their design limitations or job-nature-centric designs, they still make the list of extraordinary timepieces.
These timepieces are divers' watches, pilot watches, and many more. In this article, we will be talking about timepieces that they wear and some of their functionality, robust designs, and why they are favorites to Naval officers.
If you're interested to know more about what watches do Navy Seals wear, keep reading.
Who are the Navy Seals?
The Navy SEALs are the U.S. Navy's special operations force and part of the Naval Special Warfare Command. 
This unit uses several types of equipment in carrying out its operations, including high caliber weapons, eye gear, sunglasses, lightweight boots, and of course. This Navy Seal watch is the primary focus of this work. 
What Watches Do Navy Seals Wear?
Most watches worn by naval officers are individually owned. Still, the brands mentioned below have long been naval officers' favorites because they meet almost all the requirements to carry out their tasks.
Casio G-Shock Watches
Casio G-Shock Watches are one of the toughest watches on earth because they are built to withstand some of the most unpleasant environments. It has also taken a solid stance in the law enforcement agency and the military. 
Right off the box, the G shock watch looks pretty rugged on the outside, with a rocky bumper-protective case that mimics the nature of military life.
The standard categories of G-Shock Watches worn by them are explained below.
Casio G-Shock Digital Watch 6600
The Casio G-Shock Watch 6600 is reputed to be one of the all-time G-Shock watches.
It is a popular military watch that first appeared in 1994 and was worn by Bradley Cooper in the movie 'American Sniper. 
It is unarguably the preferred watch for military personnel because it is less expensive, lightweight, shock, and water-resistant. 
It also possesses a 24-hour mode and electro-luminescent backlight.
G-Shock DW 6600 successfully replaced the Rolex Submariner as the standard Seal watch, and it is often cited as the military watch for Navy officers. 
It is a dive watch specially assembled for and utilized by professional marine divers. However, the production of the model was discontinued by Casio in 2010, and DW-6900 became the preferred Navy Seal watch.
Casio G-Shock Digital Watch 6900
The Casio G-Shock Watch 6900 is a watch model from the Casio brand and G-Shock collection introduced in 1995. 
It possesses most of the features of the DW 6600, but it is its modern equivalent as it uses the same bezel and five-button functionality.
G-Shock DW 6900 is the new favorite watch of the US military, especially the Navy officers. It is affordable, durable, nearly indestructible, and stands out as the significant symbol of the Navy Seal's unconventional warfare tools.
Luminox Watches
Barry Cohen founded Luminox in 1989. The company manufactured timepieces designed explicitly for Navy officers, with ultra-resistance to shock. It is well built, hardy, robust, and of good quality.
Luminox is self-directing and comes equipped with vivid, luminescent hands that are easy to read both at night and during the day. It is built for depths of up to 660 feet and is powered by a Swiss quartz movement.
READ: Best Luminox Watch 
The various types of Luminox watches worn by the Navy officers are:
Luminox 3051 EVO Navy Seal Colormark
The Luminox 3051 has earned a name as one of the few timepieces for Navy officers because they have a Seal trident incised into the back and bear the name of the operational force in the watch name.
Exquisitely, Luminox 3051 has a distinguishing high-contrast dial and a quartz movement. It resembles a robust field and dive watch with 200m of water resistance. The watch is perfect for both no-light and low-light environments and glows brighter than other luminous watches.
This piece is made with a 43.9-millimeter polyurethane case and a uniform, durable polyurethane band containing a buckle clasp. Small white numerals mark the 24-hour while eye-catching white Arabic numerals contrast with the classic black dial. 
In addition to this, a handy date calendar is positioned at the three o'clock position, and the unidirectional textured bezel features indexes for easy visibility.
Luminox 3051 is preferred by the United States Air Force Pilots, and the US Navy Seals as it is powered by analog-quartz movement and protected by a durable mineral dial window.
Luminox Navy Seal 3500 Series
Luminox Navy Seal 3500 Series is assembled with a CARBONOX case specially formulated to develop an insanely hardy body for the watch.
This Luminox series analog formulation, with only a second and date complication to be seen, implies that one will not get carried away with unnecessary information that could take away the task at hand.
This military watch can boast of a five-year battery life and its night vision capabilities are top-notch, thanks to its 25-year night vision tubes.
Luminox 3581 Navy Seal Chronograph Sports Watch
Luminox Navy Seal Chronograph 3581 is said to be the most recent best-selling Navy Seal collection of Luminox watches. This series wears many fascinating new features, including a CARBONOX casing and a chronograph function.
The Navy Seal's mantra "The Only Easy Day Was Yesterday" is remarkably exhibited on its dial. Its CARBONOX fashioning ensures that the watch does not stop ticking no matter what is thrown at it. It is the best option for operators who desire more features than those contained in the previously stated Luminox watches.
The chronograph function enables one to time activities down to the second, and the rotating bezel gives one the nerve to go on dives with faith, knowing how much time is left in one's tank. 
It is also reputed to have a long battery life, allowing one to use it for many years without requiring a battery replacement.
READ: Best Luminox Watch
Timex Ironman
Timex is one of the last remaining American watch companies founded in 1854. Timex Ironman itself is a long manufactured and one of the most recognized timepieces worldwide. It is durable, affordable, reliable, and bears excellent designs that enable it to sit comfortably on the wrist while providing a reasonable number of protections itself.
A former Navy Seal, Jocko Willink, gives credit to this watch through his constant social media mentions and further vouch for its functionality. This recognition makes this watch an official watch of Navy Seals.
Its chronograph feature and a lap counter are perfect for tracking exercises, while the INDIGLO backlighting and alarm allow one to know the time in any environment. 
This Navy Seal watch features a 100-hour chronograph timer and a 24-hour countdown timer making it an excellent watch for Seals. It is also waterproof to 100 meters, causing it to be ideal for the various tasks the Navy officers undertake.
This watch also comes loaded with many valuable features which serve military officers' purpose and, most significantly, the Navy Seals.
Suunto Core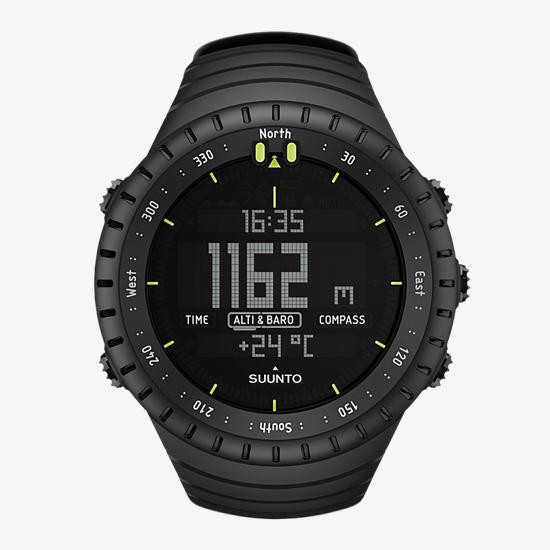 Suunto Core is one of the easily recognizable watches on the wrists of Navy Seals. This military watch is reputed as one of the favorite timepieces of the Navy officers owing to its mission-critical features.
After the death of Osama Bin Laden in 2011, Navy Seals demanded Sunnto Core watches as they are great for their missions. It is prominent, easy to glean, and has a nice altimeter, barometer, and compass features. 
The Altimeter allows one to visualize one's current elevation stats. The barometer spots the change in air pressure and keeps one informed about any upcoming storm. The compass assists one in finding the right direction.
Sunnto Core is a perfect watch for navigation to and from a mission, and it possesses navigational sensors that help find and eliminate targets in a reasonable time.
The watch is said to be featured in the movie Zero Dark Thirty which revolved around the search for Osama Bin Laden. All the actors who played Navy officers were spotted donning a watch similar to the Sunnto Core in the film.
To crown it all, Sunnto Core is one of the best watches that Navy officers can own without breaking the bank.
Seiko Dive Watches
Seiko is great at producing dive watches. They have an excellent collection of timepieces for divers and those who work underwater. 
Seiko dive watches stand as the favorite of many operators for missions and underwater dives. They are incredibly substantial, dependable, and readable. As a result, they are constantly acquired by and given to Navy Seals and other existing special operation forces.
These timepieces carry the same functionality and legacy as Rolex, but the main difference is that Rolex is more known for its hefty price. Navy Seals have been given one type of Seiko watch for decades.
Rolex Submariner
Rolex Submariner was launched in 1953, and it was the first divers' watch waterproof built to survive a depth of 100 meters. It was tagged as the second breakthrough in waterproofness mastery after launching the Oyster, the world's first waterproof wristwatch, in 1926.
The watch has a unidirectional rotatable bezel which is a key to its functionality. It also has an incised 60-minute graduation that enables a diver to monitor diving time easily. Rolex Submariner is scratch-proof, and ultraviolet rays, seawater, and chlorinated water do not affect its color.
After confirming to serve its significant purposes, the Submariner paved the way for manufacturing other ranges of Rolex divers' watches, namely, the Rolex Deepsea and the Sea-Dweller.
Apart from the watches mentioned above, other timepieces are worn by Navy Seals. This watch notwithstanding, the ones initially explained are the approved and generally accepted watches worn by Navy Seals.
Costlier and Less Common Navy Seal Watches
Aside from other recent and generally recognized watches for Navy officers, there is some category of timepieces that Navy Seals initially wore in the 1950s, 1960s, and 1970s. These durable watches are known to be more expensive than the ones we have now. Some of them will be thoroughly explained below.
Benrus Type I and Type II
The Benrus dive watch was manufactured in the 1970s, and it came in two types: Type I and Type II. They both possess a highly-readable dial, super-solid case, and simple but effective features. 
The two watches feature the exact type engraved on the case's back.  Meanwhile, the dial also makes it easy to know which is which.
Type I's feature lumed markers at each hour, a triangle at 12; rectangles at 3, 6, and 9; and dots at the remaining hours. On the other hand, Type II consists of a traditional 12/24 military dial, with small lumed triangles at each hour.
These incredible watches sit comfortably on the wrist, even though it is big and heavy. They were first issued to Navy Seals during the Vietnam War. Unlike timepieces for Navy officers, Benrus Type I and Type II can be tagged as expensive and less affordable as its price ranges from $2000 to $3000.
Blancpain Fifty Fathoms
Blancpain's flair for the underwater world led to manufacturing the Fifty Fathoms collection in 1953. It is reputed to be the first modern diver's watch expertly assembled using high-quality resources, including stainless steel and titanium, making it efficient in and out of water.
In the earlier times, Navy Seals and divers enjoyed its outstanding features. As of now, it is highly collectible and can be tagged as a luxury timepiece. Its price ranges from $8900 -to $21,950.
Citizen Ecozilla Aqualand
Citizen Ecozilla Aqualand is one of the best divers' watches manufactured by Citizen. It is a large quartz watch that is quite heavy on the wrist.
The watch is a vital diving instrument that was spotted on the wrists of Navy officers with beards. Unlike other earlier worn timepieces of Navy officers, Citizen Ecozilla Aqualand seems less expensive as its cost ranges from $712 to $990.
Jaeger-LeCoultre Navy Seals
Jaeger-LeCoultre Navy Seals is a Swiss watch specially designed for the use of Navy Seals. It features a stainless steel case that is 42mm wide, 12.75mm thick, 60-click, unidirectional stainless steel bezel, a dark ceramic insert, and some sharp-looking cut-outs for the diving timer a pip.
One of its most remarkable designs is the 'compressor key.' A slight turn of the watch's crown guard sets the crown free to be drawn out for setting the date and time or instead winding its movement. 
When it is unlocked, it displays red arrows that call one's attention and give direction that one should rotate the compression key to ensure the crown is safely locked and re-establish the rated 300m resistance.
Jaeger-LeCoultre Navy Seals meets the most stringent requirements for a diving watch. The brand has signed a partnership with the United States Navy Seals, the Navy's modern sector of combat swimmers. Its price ranges from $18,500 to $42,500.
As earlier mentioned, right before the advent of popular and affordable watches worn by navy Seals, other timepieces were in existence that served all the purposes needed by this military personnel. Even though the prices are high, they are worn by a significant number of Navy Seals.
A Navy Seals kit is never complete without including a compelling, durable, strong, and long-lasting watch.
Specifications and Requirements of the Watches Navy Seals Wear
Naval officers don't have official brands of watches for their tasks, though sometimes their wristwatches are issued. Most of the time, they are individually owned. 
But in general, their timepieces must be dependable and indestructible. 
Because of their tasks, they care less about fancy watches; this is why one can rarely find a military service person wearing a high-end Garman Lily or high-end Rolex watch.
The first requirement of naval officers' timepieces is that the wristwatch must be shock and water-resistant as the bulk of the Seal tasks occurs underwater.
Shock-proof integrity here can go as deep as 200m so that the depth of the water can't easily compromise the integrity of the shock resistance.
Their timepieces also have to be luminous, especially in some areas underwater. They can only identify particular watch parts like the hands and hour markers using bright phosphorescent glowing solutions. 
Apart from that, their watches should also be legible – to make it easy for their wearers to glance at the wristwatch and take note of the time without needing to decode what should have been simple information.
Notwithstanding the above-stated requirements, some timepieces are also expected to be quite affordable. A Seal does not have to break a bank before acquiring a durable, long-lasting wristwatch.
Frequently Asked Questions
Here are answers to some of the frequently asked questions about the timepieces of Navy officers and the type of watches they are issued.
What watches are SEALs issued?
There are no official watches issued to SEALs. However, one of their favorite timepieces remains the Luminox watches because of their dependability, especially during a night mission.
These reliable watches have a self-powered illumination system and can maintain their resistance to water even up to 200m.
Some other timepieces that Navy SEALs wear are:

G-Shock watches
Timex Ironman watches
Seiko Dive watches
Timex Ironman watches
Rolex and Tudor watches
What Watch Do The Special Forces Wear?
Special forces wear military watches or tactical watches to survive any military activity and challenging situations.
Such a watch should be rugged and resistant to water and offer shock protection.
Do Navy Seals Wear Rolex?
The Rolex Submariner watches were the choice of Navy SEALs between 1962 and 1983, switched over to Casio G-Shock watches.
Read: Tudor Black Bay 58 Vs. Rolex Submariner
Conclusion
Bearing the reputation of being the most critical and most formidable Navy unit in the United States, Navy Seals take on their missions and activities with enthusiasm and commitment. They use the best instruments to identify success in carrying out their tasks.
Aside from high caliber weapons, pistols, and other known equipment used by this military unit, watches stand out as one of the most important due to their significant part in their various activities and missions.
A watch has to consist of many specifications, without which the military unit won't use it. Some of these features include shock and water resistance to meet the required standard of US Navy Seals,
However, some military watches have met these specifications, and even some were specially created bearing the Navy Seals in mind. These lucky watches are Casio G-Shock watches, Timex Iron man, Luminox, Rolex Submariner, Luminox, Suunto Core, and Seiko Dive Watch.
The good thing is that these military watches sell for an affordable price, making them relatively easy for military men to acquire without breaking a bank.
A good study of this article will draw one closer to everything one knows about Navy Seals and their watches.
If you liked this article, you might want to check our other articles at EvesWatch.com.
My name is Eve Acosta and I'm the person behind this site. Watches are what get me ticking ;).
No, but seriously, I just love watches, I have over 30 myself. It's an obsession of mine, which is why my husband recommended me to put my hobby into some good use and build this site – so I did.
My passion for timepieces came from the fact that my parents own a small chain of shops selling timepieces. I've worked at the shop since I was 11 and fell in love with the merchandise.