Disclaimer: Eveswatch.com is reader-supported, meaning that I may include affiliate links in my articles for which I may receive compensation without any additional cost to you. As an Amazon Associate I earn from qualifying purchases.
If you are looking for a simple, classic, and minimalist looking watch, perfect for any occasion that will not cause you to spend too much, then you might want to check this article out!
With a mission to create top-notch luxury watches with the use of exquisite premium materials at a fair price, the Vincero brand has been successful to capture the attention of many people despite being new to the watchmaking industry.
Unlike other watch brands, they sell their product directly to the consumer to retain the price competitiveness in the global market. This is one of the obvious reasons for how they kept its price low.
They also make sure that each timepiece passes its rigid quality control, ensuring the use of the highest standards of technology and materials through small batch production, as they always believe that customers deserve the best.
But do they really live up to the hype? Are they really true to their claims? Keep reading as we share with you more about one of their best-selling dress watch — the Vincero Kairo watch.
In this article, we'll talk about its pros, cons, features, and quality. We also gathered some Vincero watch reviews from customers and different online platforms to find out if this is really worth having.
So, let's start!
TLDR: Vincero Watch Review – Vincero Kairos Watch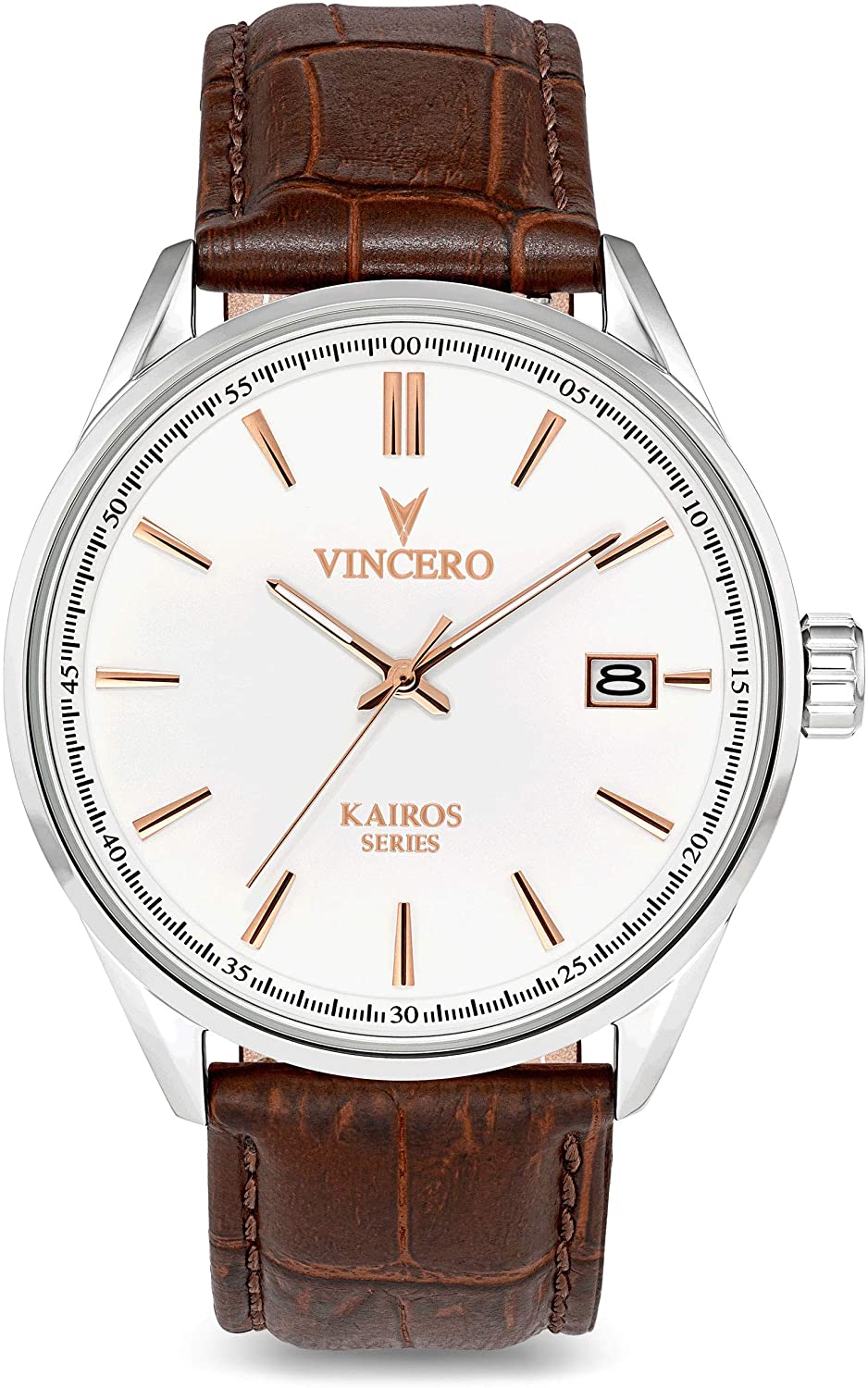 Product Description
Features, Dial, and Functionality
Vincero Kairo features an analog dial with 3 hand movements. Its watch case is made from a surgical grade stainless steel case and comes with a 42 mm case diameter, the size is just enough to make it stylish without being too bold or overpowering.
Its dial comes in either jet black, rich blue, or white finish so you have the option to select which color suits your style and personality the most. For added functionality, you'll find a date window located at the 3 o'clock position. To emphasize their sleek and sophisticated design, they use stick indices giving it a minimal appeal.
Another noteworthy feature, the watch is protected by a sapphire coated crystal that is scratch resistant. Though not as good as pure sapphire crystal, this is still better than the standard mineral one.
Unique Caseback, Strap, and Movement
Turning the back around, you'll see an Italian marble and Vincero's motto "VENI VIDI VICI" and "Live your legacy" which added to its elegance and premium feel.
Just like the other Vincero models, it can be paired with mesh bands or genuine Italian leather straps that can withstand over time.
Vincero offers both quartz and automatic watches, but this specific watch is powered by a precise Japanese quartz movement — the citizen Miyota quartz which is known for accurate timekeeping.
Lastly, it is water-resistant up to 10 ATMs or can withstand water pressure up to 100 meters, this means it can withstand swimming, showering, or rain but is not suitable for diving and other water activities.
[You might also like to read about: Cheap Men's Watches That Look Expensive]
Pros
Interchangeable straps that are easy to release
With date window function
Minimalist looking that will surely elevate style no matter what outfit
Uses high-quality material at an affordable price
Water resistance up to 10 atm
With other dial colors and bands to choose from
Easy to read
A pretty decent watch for its price
With luminous hour markers
Comfortable to wear
Cons
The lume on the hands seem a little dull in low light
For some, the watchband is too small
Cannot be used for water activities
You can purchase almost the exact same watch design but at a cheaper price
Interested? Here's the link to purchase!
In-Depth Review: Vincero Kairo Watch
Specification
Item Shape: Round
Display Type: Analog
Clasp: Buckle
Case Material: Stainless Steel case
Case Diameter: 42mm
Case Thickness: 10mm
Strap width: 22mm
Movement: Citizen Miyota Quartz Movement
Water Resistance: 10 ATM
Glass: Sapphire Coated Crystal (Scratch Resistant)
Stainless Steel: 316L Surgical
Caseback: Italian Marble Showcase
Strap Material: Top-Grain Italian Leather
Warranty Information
Should you want to purchase a Vincero Kairo watch, they offer a 5-year warranty that includes manufacturing defects for 5 years after the original purchase date. They will repair and replace the watch free of charge.
However, defects caused by normal wear and tear, accidents, or improper care and handling are not covered by the warranty. If you want to know more about its warranties terms and conditions, you can visit this link or give them a call at +1 (888) 874-3450.
Who is it Best For?
Vincero Kairo collection is a great option for those who are into simple and minimalist looking timepieces. Well, who wouldn't adore timeless-looking pieces right? These are just perfect for smart or casual occasions whether for date night, business trips, or just simply hanging out with friends.
Aside from it suits well on any outfit, this beautiful timepiece will not cause you to spend much of your hard-earned money.
Quality and Durability
Sapphire Coated Mineral Glass – Vincero Kairo as well as other Vincero watches features a sapphire-coated mineral glass. This type of watch crystal is in between the mineral glass and sapphire crystal. It uses mineral glass that has been applied with a thin covering of sapphire.
It is not as strong, shatterproof, and scratch proof as pure sapphire, however, this provides better overall resistance to scratches than normal mineral crystal. This is one of Vincero's watches' advantages as most fashion watches use regular mineral crystals.
Small Batch Manufacturing – Unlike other traditional brands, Vincero has been focused on monitoring the quality of its product throughout the whole process of its production. They have their internal quality control team that thoroughly keeps an eye on the process at every stage to ensure high standards before shipping out all their products.
What Do People Say About It?
Amazon
Here's what some verified purchasers had to say with the Vincero Kairo watch:
Luxury at a good price – "Love this watch better than expected. Rose gold with the black face = sexy. The leather straps that are easily changeable are awesome. The leather is really nice and pretty comfortable and since it's real Italian leather it should age very well. The packaging is very nice too and comes with a very nice box to store it in. Overall I am very satisfied with the watch and the company's Morales and motos. Love the meaning behind the watch. When you wear this watch you feel confident and ready to take on the world looking fly as h*ll." He notes that the only issue he had was the shipping arrived late.
Another wrote:
Great watch at the best value – 5/5 – "I got this watch about a week ago and could not be happier! The sapphire glass is a nice treat at an affordable price and the watch looks great in both casual wear and with a suit. The band is very high-quality leather and can easily be switched out if you have other Vincero watches. The watch has a nice weight, heavy enough so you know it is quality made without weighing you down. This and the Vincero Chrono S are now my go-to watches over several other well-known brands. I could not be happier with my purchase, you cannot find a better piece at this price anywhere. Highly recommended.."
Pleased with what you read? You can purchase it through this link!
Youtube
On the youtube channel posted by MyUnboxingsAndFun, Vincero Kairos watch has undergone rough scratches and has been put under a high-pressure water test to find out if it can withstand these tough conditions and circumstances. And it didn't let him down. He was impressed and amazed at how durable the watch is.
In the end, he mentioned: If you like classical watches, this is the perfect one… If you want a high-quality watch that is not gonna scratch and break underwater, buy this watch.
Reddit
On the famous forum Reddit, one shared how he loved his Vincero Kairos watch that he received as a birthday present from his parents. To quote, here is what he said:
"[Vincero Kairos] I know these kinds of watches are not very popular on this sub but my parents gave me this for my birthday and I love it! It also sparked my interest in other watches and now I am addicted to this sub."
He also mentioned:
"I got this watch for my birthday today and it's the nicest watch I have owned to date. I upgraded from a 30 euro Timex that was scratched and used every day for the last 7/8 years. I didn't know a lot about watches before, but in the last few weeks, I have fallen in love with a lot of other watches. All the Speedmasters and Rolexes on this sub look so good and I now have a goal in life to own one of those high-end watches. Hopefully, I can expand my collection soon, this sub has been really helpful so far!"
One user agreed and shared: "My fiance got me the very same watch (color and all) for our anniversary. I wear it every day, my most treasured due to sentimental value. Looks good with the original band and a steel one I recently threw on."
Other Alternative Vincero Watches Review
1. Vincero Luxury Men's Rogue Wrist Watch – Silicone Watch Band 
This Vincero watch is a modern sporty-yet-classy watch made of high-grade materials. It comes protected with sapphire-coated mineral crystal glass that is scratch-resistant. It features a Japanese Miyota quartz movement with three chronograph sundials that serve as timers. With a case width measuring 43mm in diameter, this watch has a 316L surgical-grade stainless steel casing.
Pros
Deliberate sporty elements and design
Use of high-quality materials
Extra straps are available
Comfortable to wear
The leather band is easy to supple out
Bright Lume
Cons
Some men with smaller wrists may find it too large
Interested? You can purchase it here!
2. Vincero Chrono S Watch
Another watch with three chronograph subdials but has a slightly more minimal appeal than the Rogue Wristwatch is the Vincero Chrono S watch.
This features a case diameter with a size of 43 mm, allowing you to check on time without any difficulty. Despite its large case, it has a nice weight of 6 Ounces.
With over 15 designs to choose from, there will definitely be something that will catch your attention and will make you fall in love. As for its movement, it uses a Citizen Miyota quartz, a Japanese quartz movement known to be precise and accurate.
Like other Vincero watches, it also features a marble case back, stainless steel case, and sapphire coated mineral glass.
Pros
An impressive variety of color combinations are available
Goes with all types of outfit
Water-resistant up to 5 atm or can withstand pressure up to a depth of 50 m
Use of high-quality materials
Cons
The lume on the hands seem a little dull in low light
Cannot be used for water activities
Interested? You can purchase it here!
The Verdict: Should You Buy it?
If you are a man of style and looking for a watch that will fit well with all types of dresses, this is definitely for you. 
In my personal opinion, I think Vincero watches, especially this Vincero Kairo watch, truly live up to the hype. They have been true to their claims of providing watches with impressive value and quality, yet will not cause you an arm and leg.
Its dial is clean and neatly finished, it uses a premium genuine Italian calf leather band, a unique Italian marble case back, and sapphire coated mineral crystal that adds to its elegance and premium appeal.
Compared to other affordable and cheap watches that belong under the same category, this is definitely a plus point.
But since Vincero is kind of new to the watchmaking industry, the longevity of their product is something that they still have to prove.
Nevertheless, provided by many positive reviews and feedback, I must say Vincero Kairo is definitely something worthy to try.
I hope you find this review helpful, If you like this article, make sure to check out our other articles at EvesWatch.com
My name is Eve Acosta and I'm the person behind this site. Watches are what get me ticking ;).
No, but seriously, I just love watches, I have over 30 myself. It's an obsession of mine, which is why my husband recommended me to put my hobby into some good use and build this site – so I did.
My passion for timepieces came from the fact that my parents own a small chain of shops selling timepieces. I've worked at the shop since I was 11 and fell in love with the merchandise.