Disclaimer: Eveswatch.com is reader-supported, meaning that I may include affiliate links in my articles for which I may receive compensation without any additional cost to you. As an Amazon Associate I earn from qualifying purchases.
Looking for a new watch but not sure where to start? If vintage watches, good quality, and a reasonable price are what you're after then the Tudor Black Bay 58 might be the watch you're looking for.
Included in the black bay line collection, the Black Bay fifty-eight gets its name as a tribute from the year 1958 wherein Tudor's first dive watch with water resistance to 200m was introduced, hence inspired by the Tudor oyster prince submariner which came a year after Rolex submariner. 
Apart from its rich historical background, this vintage watch has a different story when you wear it on your wrist. It rests so comfortably, sparkling in its relaxed way while not being too flashy or overpowering. It has a right balance of both the past and modern that feels refreshing and extraordinary on everyone who sees it.
More so, its unique color and design that resembles a classic vintage submariner are impossible not to notice. No wonder why the Black Bay Fifty-Eight immediately became one of the most talked-about watches of the year after its debut at Baselworld 2018.
So if you're interested to know more about what makes the black bay fifty-eight well-liked, keep reading as we provide you an in-depth review of the Tudor Black Bay 58. We've included its pros, cons, and features to help you decide if this is worth buying.
Keep reading and let's begin!
TLDR: Tudor Black Bay 58 Overview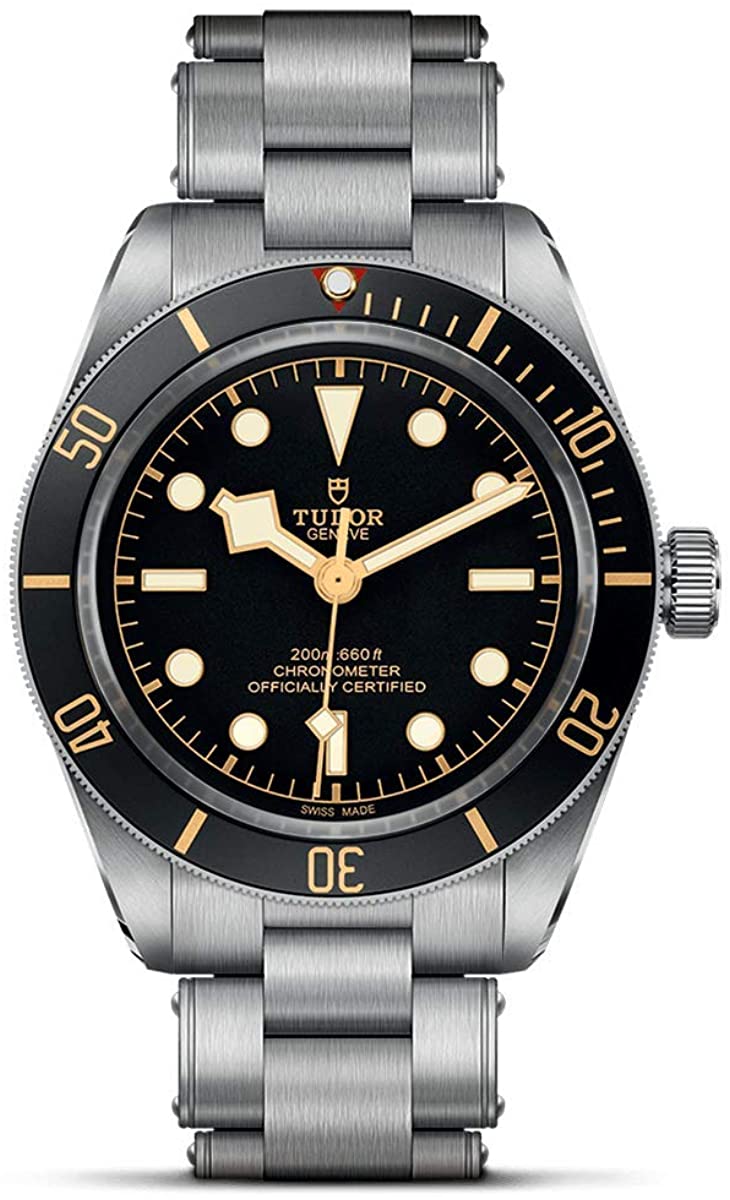 Product Description
The Black Bay 58 was an instant hit with its target market. It's the epitome of genuineness!
Black Bay 58 has a steel case that is 39mm in diameter, the size is in reference to the 1950s Vintage Tudor Submariner. Though smaller in size compared to the modern dive watches, it embodies a unique vintage charm with a modern inspired look on anybody's wrist. Its size is perfect for all sorts of adventures whether formal or casual.
It's a visibly slim 11.9mm, which is exactly what many watch collectors want. The lug width is 20mm and 47mm lug to lug. The ultimate result is a watch that is both attractive, functional, and highly comfortable.
It has the same black dial and gilded finish as normal Black Bay timepieces. These gilded dials are reminiscent of 1950s fashion. As a result, expect gold plating on all of the dial's markers.
On the other hand, The Tudor Black Bay 58's movement is powered by the manufacture Calibre MT5402. This in-house movement offers wearers a 70-hour power reserve which is above average for timepieces of this kind.
As for its band, the Tudor Black 58 comes with different strap options including a choice of riveted steel bracelet with a polished and satin finish, a leather strap with folding clasp, or a fabric strap that is made using Jacquard technique.
Its design assures its lifetime quality, dependable performance, and versatility.
Lastly, it features a Tudor rose pattern on a screw-down winding crown made of steel. The winding crown tube is circular smooth brushed steel. It can withstand a depth of 200 meters (660 ft).
[You might also want to check out: Tudor Black Bay 36 Review]
Pros
Vintage-inspired watch with a modern twist
Very versatile watch, ideal for formal and casual adventures
Gorgeous proportions with classic aesthetics that will match any style
Precision timekeeping with its MT5402 movement
Comfortable and luxurious feel fabric strap
Up to 70-hour power reserve
Domed with sapphire crystals
Chronometer certified by the Swiss Official Chronometer Testing Institute
200-meter water resistance
Cons
Interested? You can purchase it here!
In-Depth Review: Tudor Black Bay 58 Review
Specifications
Case: Stainless Steel
Movement: Tudor MT5402
Dial: Black
Lume: Yes
Lens: Domed Sapphire
Strap: Steel Bracelet
Water Resistance: 200m
Dimensions: 39 x 47.75m
Thickness: 11.9mm
Lug width: 20mm
Crown: Screw-Down
Warranty: Yes
Additional Features
Since Black Bay 58 is clearly a success of Tudor, the collection has been growing significantly. Aside from the black case, they have also recently introduced a new bronze version, new silver, new gold, and navy blue. Each has a unique history and story to tell but all feels simultaneously vintage and modern on the wrists.
Another thing to admire about the Tudor black bay 58 is, of course, it's iconic "snowflake" hands that have applied with Super-LumiNova® phosphorescent that ensure high legibility even in a dark environment, this is a very useful feature when used as a dive watch.
Scratches and shatter are also something to less worry about as the watch is protected with a dome sapphire crystal case.
Another noteworthy feature worth mentioning is its unidirectional rotatable bezel in steel with a 60-minute graduated disc in matt blue anodized aluminum and silver gilded markings and numerals.
Quality and Durability
The watch begins with a fantastic concept and then goes all out to make it a reality. You get a classic-inspired timepiece that offers the latest modern elements. Its size and build quality make it great on any occasion, from casual to formal wear.
Overall, this timepiece uses high-quality materials that are built to last.
[Related post: Most Durable Watches – Top 7 Tough Watches]
Warranty
Tudor is confident about the quality of their timepieces, with that, they offer up to a 5-year international guarantee on all Tudor watches purchased on or after January 1, 2020. The 5 year transferable guarantee does not require registration or periodic maintenance check.
While all Tudor watches purchased from July 1, 2018, to December 2019, the warranty is covered for three and half years. Visit their website to know more about their warranty.
Who is it best for?
The Tudor Black Bay 58 is suitable for those who are looking for a contemporary and vintage-inspired timepiece whether you're a beginner collector looking for your first serious item or a seasoned veteran. It's a watch that stands out in its simplicity, offers modern technology, and just gets better as time passes by. Certainly, a great addition to your watch collection.
What Do People Say About It?
Amazon
An Amazon customer gave the Tudor Black Bay 58 a good rating. He wrote:
"What can I say about this watch that hasn't been said 1,000 times on all-watch review sites, channels, forums, etc.? It is not a cheap watch. But if you can afford it, this is THE best watch for the money. Hands down.
I suggest that anyone getting into watches, rather than buy several Seikos, or Citizens, or Bulovas, save that money until you've got 3-4K and get this watch. It will serve you well.."
YouTube
In this channel, Teddy Baldassare, the YouTuber reviewed all the variants of the Tudor Black Bay 58 and determined who these watches are best suited for and his personal favorite.
"Apart from the wearing dimensions, the reason why the 58 works well in many ways is the same reason the Black Bay works well. It offers both enthusiasts and mass-market consumers a great do it all luxury sports watch at a competitive price range that clings to function instead of flair…"
The Verdict: Should You Buy it?
If you are looking for a vintage-inspired watch with a perfect blend of vintage and modern elements and functions using the latest technology. Then The Tudor Black Bay 58 is for you.
Despite its expensive price, it surely is worth it as it offers excellent features such as domed sapphire crystal, Super-LumiNova hands, up to 70-hour power reserve, plus it's available in different versions with different straps options, perfect no matter what the occasion is. And since it uses high-quality materials, this timepiece will surely last long.
If you like this article, make sure to check out our other articles at Eveswatch.com.
My name is Eve Acosta and I'm the person behind this site. Watches are what get me ticking ;).
No, but seriously, I just love watches, I have over 30 myself. It's an obsession of mine, which is why my husband recommended me to put my hobby into some good use and build this site – so I did.
My passion for timepieces came from the fact that my parents own a small chain of shops selling timepieces. I've worked at the shop since I was 11 and fell in love with the merchandise.