Disclaimer: Eveswatch.com is reader-supported, meaning that I may include affiliate links in my articles for which I may receive compensation without any additional cost to you. As an Amazon Associate I earn from qualifying purchases.
For adventurous people, divers, and aquatic collectors, dive watches are still essential gear.
The sharp and luminous numbers, versatility, fashionability, reliability, and of course, water resistance make dive watches a must-buy, for adventure accessories or even for luxurious purposes.
One of the new reliable dive watches that you can buy is the Stuhrling Regatta watch. It is relatively affordable given its capabilities, classy design, and special features specifically designed for underwater activities.
What's with the Stuhrling Regatta watch? What are its pros, cons, specifications, and features? Let's find out!
Keep reading to learn more.
TLDR: Stuhrling Regatta 395 Watch Review
Product Description
Included in the Stuhrling Aquadiver collection, the Stuhrling Regatta watch is an analog watch made of classic stainless steel and is designed for underwater use such as scuba diving, kayaking, snorkeling, and other water sports activities. It has a water resistance rating of 20 ATM or 660 feet, which is perfect for a comfortable diving experience.
This dive watch is not just functional for water activities but is also fashionable and versatile – you can wear it as a daily or dress watch.
It has an adjustable brushed steel link metal band of about 22 millimeters. While the case, also made of stainless steel, has a diameter of 42 millimeters and thickness of 11.47 millimeters, perfect for men's wrists.
The dial has an elegant and matte finish in either black or blue colors. Further, the dial window features luminous Arabic numerals, stick indices in a large font, and skeletonized luminous sword-style hands, making the time so much easier to read even underwater. Plus, it has a magnified date window positioned between 4 and 5 o'clock.
As for its movement, Stuhrling watches use either Swiss quartz movement or Japanese movement on their collections. This nice watch uses an accurate and reliable Japanese Miyota movement.
[You might also like: Stuhrling Aviator Watch Review]
Pros
Elegant dive watch with a very reasonable price
Different bezel colors to choose from; available in red, black, green, blue bezel
Water-resistant to 660 feet
The unidirectional bezel prevents time miscalculation underwater
Stainless steel band does not pull the hair on wrists and can easily be adjusted
Has large and sharp numbers for easy reading
Has bright luminous hands and indices for low or no-light reading
Precise timekeeping
Stuhrling also offers different strap options; this includes a genuine leather band and black silicon rubber strap.
Secured and fit bracelet; deployment clasp a.k.a divers clasp is composed of surgical grade stainless steel.
Cons
The date window is too small
Can be a little bulky on the wrists
Interested? Here's the link to purchase!
In-Depth Review: Stuhrling Watch: Regatta Review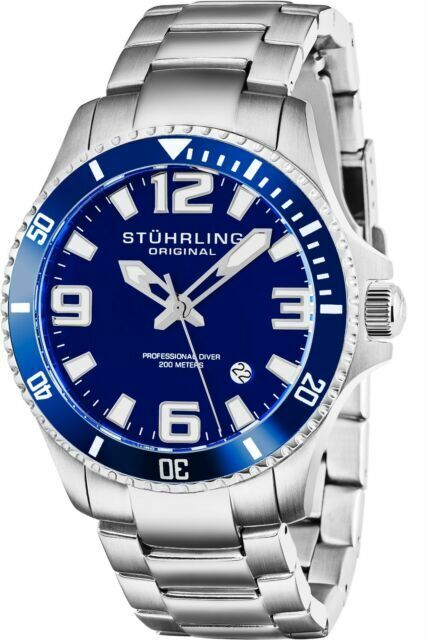 Specifications
Model Year: 2011
Item Shape: Round
Dial window material type: Krysterna crystal
Display Type: Analog
Clasp: Push Button Foldover Clasp With Safety
Case Material: Polished Stainless Steel case
Case Diameter: 42 millimeters
Case Thickness: 11.47 millimeters
Band Material: Stainless Steel
Band size: Men's Standard
Bandwidth: 22 millimeters
Band Color: Silver
Dial Color: Black/ Blue dial
Bezel Material: Stainless Steel
Bezel Function: Unidirectional
Calendar: Date
Special features: Screw down crown
Item weight: 175 grams
Movement: Japanese Quartz Movement
Water-resistant depth: 660 Feet
Additional Features
Unidirectional Stainless Steel Divers Timing Bezel, Screw Down Crown, Divers clasp
Stuhrling Regatta watch has a unidirectional stainless steel divers timing bezel with five-minute interval markings. These features make it easier to measure the elapsed time underwater and to monitor remaining breathing time underwater.
The screw-down fluted crown with rubber gaskets and an airtight seal secures the watch and ensures water resistance. You can also see the Stuhrling S logo in the screw-down crown.
Further, the deployment clasp is composed of surgical-grade steel for a perfect and comfortable fit that securely fastens on the wrists.
Bright and Luminous Fill
Another feature that makes it an ideal watch for divers is its hour hands and indices that are made of radioactive alpha emitter materials for a luminous fill or glow in the dark, which is relevant for a diving session, this allows them to visibly see the time even when underwater.
Quality and Durability
The Stuhrling Regatta dive watch is predominantly made of stainless steel that is an excellent material for longevity and resistance. Its classy yet elegant design is comparable to high-end luxury watches but for a fraction of their price.
It has a Japanese Miyota quartz movement for precision and accuracy.
Further, this dive watch's dial window is made of a Krysterna crystal which protects the watch from scratches and cracks from underwater pressure.
Warranty Information
Repair services are available in USA, UK, and China service centers.
For two years from the date of purchase, your Stuhrling watches are covered with an international warranty that includes repair and replacement caused by manufacturing defects free of charge. For quartz watches such as the Stuhrling 395 Regatta, the Warranty also includes battery replacement that is covered for a period of 1 year.
Moreover, defects caused by improper handling such as submerging it in water when it is not indicated as water-resistant, normal wear and tear, accidents, broken watch case, straps, crystals are not covered by the warranty.
In case of needing a service, be sure to only have it repaired to authorized watchmakers, otherwise, the warranty will be nulled or void.
You can visit this link for more information.
Who is it best for?
Stuhrling Regatta watches are best for people who enjoy water activities such as free diving, scuba diving, snorkeling, kayaking, paddling, and other water sports. It is also best for people who want versatile and fashionable watches that they can use every day.
Pleased with what you read? Purchase it here before it's gone!
What Do People Say About It?
Amazon Reviews
With a good rating on Amazon, here are what some verified purchasers of Stuhrling Regatta wrote:
Love this watch – "There are so many watches to choose from, but this watch is very impressive. The blue is deep and the luminous hands that glow in the dark are very helpful. The numbers are nice to look at and the company seems like a good one. I'm impressed and very happy with this purchase."
Incredibly high-end watch for half the price, you won't be disappointed! – "I ordered this watch as a gift for my husband. My first impression was the gift box it came in, it was SO nice and unexpected! I opened the box and was just floored at how beautiful this watch is! I was so proud to give him such a great gift for Christmas and he absolutely loves wearing it. It is so nice, he only wears it on special occasions. The sleek design is so much better than a much more expensive watch would be, the features of the watch can be found on much higher-end watches. If you are looking for a super high-end performing watch for half the price, this is the watch for you. I would also like to note that the shipping was incredibly fast, we received this gift in plenty of time for Christmas!"
Many are pleased with Stuhrling Regatta's quality and classic style yet at an affordable price. Buyers also say that the luminous hands and hour markers do their work.
Youtube Review
In one of the videos posted by carodnepr/hqwatchgallery, wherein he talked about some features of the Stuhrling Original Aquadiver Regatta 395 33U16 Dive watch and shared his thoughts about it.
He started the video by showing its packaging, which for him is very attractive. "The box is large enough with a gold logo on top. The watch inside looks very original and a beautiful gift option".
Then he talks about some of its features such as its case size, weight, thickness, information written on its solid case back, watch dial to name a few. "The back cover is very quality polished, and the body is made of stainless steel".
He also mentioned some disadvantages and advantages of the watch.
What We Love about Stuhrling Watches
1. Wide selections that won't break the bank
Divers watch, classic dress watch, skeletonized watch, an aviator watch, and many more! No matter what type of timepiece you are after, Stuhrling Original has something that will definitely suit your style, personality, and preference.
You can get them anytime without spending too much of your hard-earned money, making it a great everyday watch. Automatic, quartz and mechanical movement are also available.
2. Stylish yet comfortable to wear
Stuhrling offers a wide variety of unique and distinctive watches for both men and women that are sure to complete any wardrobe and outfit.
They have six categories for men's collections: Legacy, Aquadiver, Aviator, Symphony, Monaco, and Tourbillon. While three for women's collection: Legacy, Symphony, and vogue.
All these can easily be adjusted to fit comfortably on the wearer.
Some Drawbacks to Take Note When Purchasing Stuhrling Watches
1. Some are worried about its quality and reliability
Some watch enthusiasts think that competitor brands such as Seiko are better in terms of quality and reliability because of their watchmaking history that has already been tested through time.
Moreover, don't fret yet, as based on some reviews we've gathered from the famous online platform Amazon, more customers are satisfied with its quality and aesthetic, it highly dominates the negative ones.
Stuhrling is also known for its rigorous manufacturing practice to ensure they are able to come up with high-quality timepieces.
2. International buyers located from outside US, UK, and China may not benefit from the warranty service
If you live outside of the area mentioned, you may need to pay charges for the watch to be delivered back to you after you have availed of its repair service during the warranty period, extra shipping fee might cost almost the same price as the amount of watch purchased.
Other Stuhrling Regatta Model
1. Regatta 792 Automatic 42mm Diver
The beautiful Stuhrling Original Regatta Automatic Professional Diver Men's watch is a good option for those who don't want to replace the battery often and rather prefer automatic self-wind movement.
Depending on your style and taste, this watch features about 7 color combinations and designs to choose from.
As a dive watch, it also has a unidirectional rotating bezel, screw-down crown with rubber gasket, and a water-resistant level of up to 200 meters, making it suitable to wear even when showering, swimming or diving.
It uses jewel automatic self-winding movement known for accuracy and longevity, with a see-through case-back that allows you to see its action. Its face and back are protected by a scratch and shatter-proof Krysterna crystal that can also withstand pressure when diving.
With luminous hands and hour markers and a magnified date window at 3 o'clock position.
Finished with a stainless steel triple-row link bracelet and push-button deployment clasp makes the watch stays firm and safe on the wrists.
Pros
Made from 316L surgical grade stainless steel case
Luminous hands that are useful when diving in deep dark waters
With date window function
See-through case-back
Securely fasten on the wrist with push-button deployment with safety clasp
Reasonable price for an automatic watch
Wide variety of colors and designs to choose from
Cons
A little heavy on the wrists
luminescent features fade fast
Interested? You can purchase it here!
The Verdict: Should You Buy it?
The Stuhrling Regatta watch presents simple functionality and a stylish design. It is a classic yet elegant watch with its polished dial and functional dial window features.
The unidirectional bezel, glow-in-the-dark dial feature, and quartz movement make this dive watch a reliable watch for precise timekeeping.
And of course, the main feature of the watch is water resistance up to 660 feet or 200 meters, making it suitable for professional divers and casual water sports enthusiasts.
For a fraction of the price of luxury watches, Stuhrling Regatta is a good buy.
You might also be interested in other watch brands and categories — dress watch, skeleton watch, pocket watch, and many more! Feel Free to check out our other articles at EvesWatch.com
My name is Eve Acosta and I'm the person behind this site. Watches are what get me ticking ;).
No, but seriously, I just love watches, I have over 30 myself. It's an obsession of mine, which is why my husband recommended me to put my hobby into some good use and build this site – so I did.
My passion for timepieces came from the fact that my parents own a small chain of shops selling timepieces. I've worked at the shop since I was 11 and fell in love with the merchandise.