Disclaimer: Eveswatch.com is reader-supported, meaning that I may include affiliate links in my articles for which I may receive compensation without any additional cost to you. As an Amazon Associate I earn from qualifying purchases.
Stuhrling Original brand is committed to giving its timepieces a quality and extraordinary style without you having to spend a lot of your save money.
The company is dedicated to building a legacy in watchmaking by ensuring that its watches pass thorough and rigorous testing.
Every watch model possesses the highest manufacturing standards and materials that the company preserves. The company's vision itself confirms its interest: "Quality is never an accident; it is always the result of intelligent effort."
If you are looking to purchase a wristwatch that suits an everyday style, a classy yet modern design, Stuhrling Atrium Elite might impress you.
To know more information about the Stuhrling Atrium Elite watch, keep on reading and get an in-depth review of its key features, pros, and cons and find out if it's worth it.
TLDR: Stuhrling Watch – Atrium Elite Review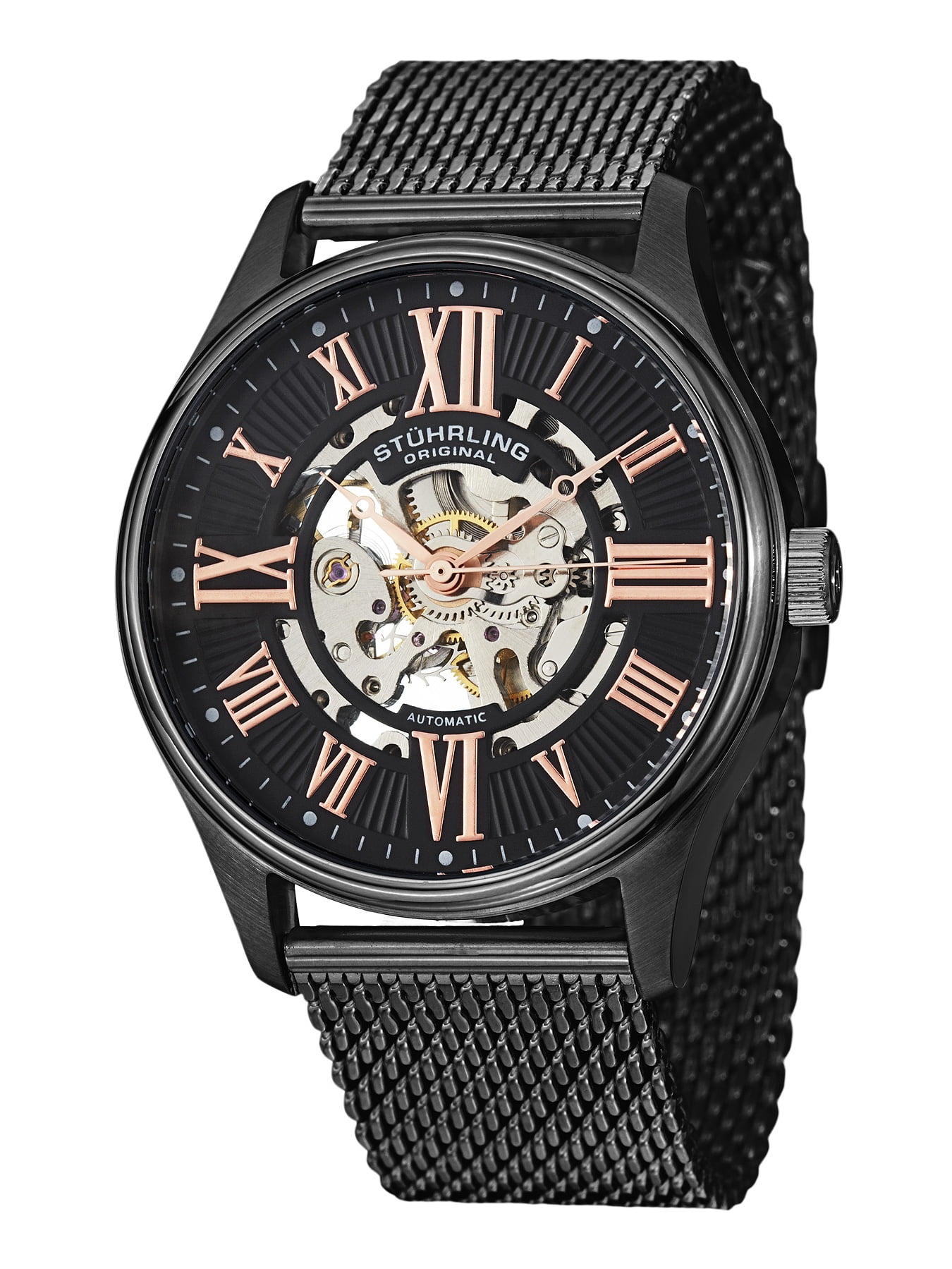 Product Description
Features, Dial, Exhibition Case Back
If you love to view the mechanism and assembly at the work of a watch, then this is the perfect timepiece for you!
The Stuhrling Atrium Elite watch features a black skeletonized inner dial and exhibition case back that allows you to witness its stunning movement.
The front and back are both protected by synthetic sapphire crystal glass that is known to have better quality compared to the ordinary mineral glass, these are more resistant to scratches.
It has an outer textured dial that showcases roman numerals as its hour markers as well as Breguet style hands, both in a beautiful rose-gold tone. These give this Atrium Elite watch a classy look.
Stainless Steel Case, Movement, Mesh Band, Water resistance
The round-shaped stainless steel casing made it a typical yet good-looking timepiece. It has a diameter of 42 mm case and a thickness of 14 mm, this best fits medium to large size wrists.
It also has a pull/push fluted crown and a fixed bezel. Further, it features a screw-down exhibition case back. As for its movement, it has an automatic self-wind movement with an analog display, this means it doesn't utilize a battery instead uses the wearer's natural movement for it to be wounded.
This timepiece also features a mesh stainless steel bracelet. Having a bandwidth of 22 millimeters, this fits the men's standard size. Further, the black mesh band has a fold-over clasp.
Lastly, its water resistance is up to 50 meters or 165 feet, this means you can wear it even when it's pouring, during washing hands, or even showering. It can withstand water splashes and brief immersions of water but is not recommended to be used during diving and other water activities.
[You might also want to read: Stuhrling Skeleton Watch Review]
Pros
50 ATM water resistance
Made of high-quality materials
Attractive and classy dial features
Skeletonized dial and exhibition case back that allows you to see its movement
Versatile and smart dress watch that can be worn for everyday use
Has a shatter-resistant dial window
No need battery to operate
Comfortable to wear because of its metallic mesh bracelet; breathable
Cons
Not suitable for diving or snorkeling (just for short periods of recreational swimming and showering only)
Need wounding to function
Skeleton watch may be a little challenging to read on time
Interested? What are you waiting for! Shop now and grab it through this link!
In-Depth Review: Stuhrling Atrium Elite Watch
Specifications
Item Shape: Round
Dial window material type: Synthetic sapphire
Display Type: Analog
Clasp: Deployment Clasp
Case Material: Stainless Steel
Case Diameter: 42 millimeters
Case Thickness: 14 millimeters
Band Material: Stainless Steel
Band size: Men's Standard
Bandwidth: 22 millimeters
Band Color: Black
Dial Color: Black
Bezel Material: Stainless Steel
Bezel Function: Stationary
Special features: Second hand
Item weight: 8.82 Ounces
Movement: Automatic
Water-resistant depth: 165 Feet
Quality and Durability
Stuhrling uses stainless steel as its primary material to create a classic yet high-quality and long-lasting watch. The use of synthetic sapphire added to the durability of the dial window because it is scratch-resistant.
Warranty
Stuhrling Original has two years International warranty. Repairs and other services are available in Stuhrling's service centers in the USA, United Kingdom, and China.
What Do People Say About It?
Amazon Reviews
On Amazon Review pages, one verified purchaser was very pleased with what he purchased, he also shared some tips of the best frequency to wear the watch:
"I absolutely love this watch!! Classy yet subtle, it provides a touch of elegance yet does not distract from anything and does not draw unwanted attention if you want to wear it for an everyday watch like I am. I've found it can sit for a day and a half to two days without being wound, so I recommend wearing it every other day or at least winding it every two days, to keep it going. I just this morning had to wind it because I've been sick for a few days and haven't left home so I haven't had any reason to wear it, but now that I know I can fix that issue! Overall I would recommend this to ANYBODY who wants a classy watch and doesn't want to take the chance of looking gaudy like a lot of the higher-end watches tend to."
Another satisfied customer wrote:
"I am very happy with the quality and value of this purchase. The sweep second hand, adds precision, to the functionality, of this smart dress watch. The metallic mesh strap is surprisingly comfortable and this watch receives admiring glances, wherever I go."
Ready to order? Process your request through this link before it's gone!
The Verdict: Should You Buy It?
Considering the Stuhrling Atrium Elite Watch's high-quality design and distinct features, it is definitely worth purchasing! It's also a deal-breaker that it is offered at a fair price.
Stuhrling Atrium Elite watch offers an extraordinary style with its black-ion plated case and skeletonized dial. The automatic self-winding movement and unique dial features are also other things that will surely complement your everyday grind.
I hope you find this review helpful. You might also be interested in other watch brands, watch news, and other watch categories!
Feel free to check out our other articles at EvesWatch.com