Disclaimer: Eveswatch.com is reader-supported, meaning that I may include affiliate links in my articles for which I may receive compensation without any additional cost to you. As an Amazon Associate I earn from qualifying purchases.
Luminox is America's iconic sports watch manufacturer. It has a fantastic reputation for durability and quality – so much so that it became the official watch provider of The United States Navy Sea, Air, and Land Teams (Navy SEALs).
Not only that. The brand's watches also feature borosilicate glass capsules on the hour markers and in bezels, giving the Luminox watches an attractive glow. And one of their most popular timepieces is the Luminox Watch 3600 Navy SEAL Series.
But is it really worth the money?
Do its features give the watch a top-tier standing among other sports watches? All these are what we're going to find out in this in-depth Luminox watch review!
Upon sampling the Luminox 3600 Navy Seal Watch, here's what we found.
TLDR: Review of the Luminox Watch 3600 Navy SEALs Series
One of Luminox's Navy Seal offerings, the 3600 Navy SEAL Series was introduced in 2019 and officially licensed by the Department of Navy. But you don't have to be in the Navy SEALs, US Air Force, or US Coast Guard to be using this military-style watch.
This Luminox Navy Seal watch, along with other Luminox watches, is now available for the public. Outdoor event enthusiasts, health and fitness fanatics, and medical practitioners are only some group of people who gave this watch plenty of acclamations.
And we think it's due to the uniqueness of its Luminox Light Technology (LLT) feature. Just from the brand name itself, Luminox means "light night" in Latin. Lumi stands for "light" while Nox for "night."
User Experience: Because #EverySecondCounts
Speaking of the LLT feature, this 45mm watch has a self-powered illumination system that uses tritium. It's composed of micro gas light tubes that give indices visibility or glow even in complete darkness and under any conditions.
This advanced and unique Swiss technology is likewise coupled with precise Swiss quartz movement and a lightweight case. It's also resistant for up to 200 meters or 660 feet.
With these features, we kind of has an idea why the company used #EverySecondCounts as their official Luminox hashtag marketing to grow their online presence.
Design: 14mm Height, 73grams Weight, and More!
Just like other Luminox watches, this one is also built to withstand the toughest environments. So, whether your job is in the field or in dark environments, this Navy Seal watch makes an ideal investment.
It features a CARBONOX™ case, meaning it's a hard and very right watch case that takes durability and ruggedness to a whole new level.
Its bezel is also made of the same material. This watch moreover features a sapphire crystal with a magnifying glass at the date window and an anti-reflection coating to improve the performance and readability of the crystal while keeping the clarity to its best.
In terms of precision level, this 3600 Navy SEAL Series is comparable to Luminox's Air Series that was initially created for the US Air Force pilots flying the Nighthawk F-117 Stealth jets.
The Luminox navy seal watch uses Ronda 515 hand height 6 watch movement. If you're not yet familiar with this Ronda caliber number, it simply means it's a repairable metal watch movement that has a power-saving mechanism – approximately 70% reduction of power consumption. The battery life of this Navy Seals watch is up to 395 / 50 months.
What Makes it Stand Out
Aside from its self-powered illumination system that provides the watch a constant glow for up to 25 years, this dependable watch uses materials that are carefully tested so users will not have allergic reactions.
So, if you're worried that you have a nickel allergy when wearing watches, you'll be amazed at this Luminox watch. We also like its water resistance depth.
Other watches with 660ft water resistance may not withstand constant pressure in underwater conditions, but not the Luminox watch. And in case the glass does steam up as water condenses inside the watch caused by natural humidity, it will normally disappear after two to three minutes.
Pros
Unique Luminox Light Technology feature – lume does not require charging from a light source
Solid structure
Great fit and profile
Battery replacement is easy to find
Accurate timekeeping
Dependable timepiece for night missions
The rubber strap does not feel cheap on the hands; it has a soft texture
Sword-style minute and hour hands
Cons
Interested? Click here to buy it!
Is it worth it?
The Luminox 3600 Navy SEAL Series watch is a worthy asset to invest in, especially if you are someone who works in a poorly lit environment. Not only does it stand out among other high-performance sports watches, but it is also highly durable and has an excellent design.
In-Depth Review of the Luminox Watch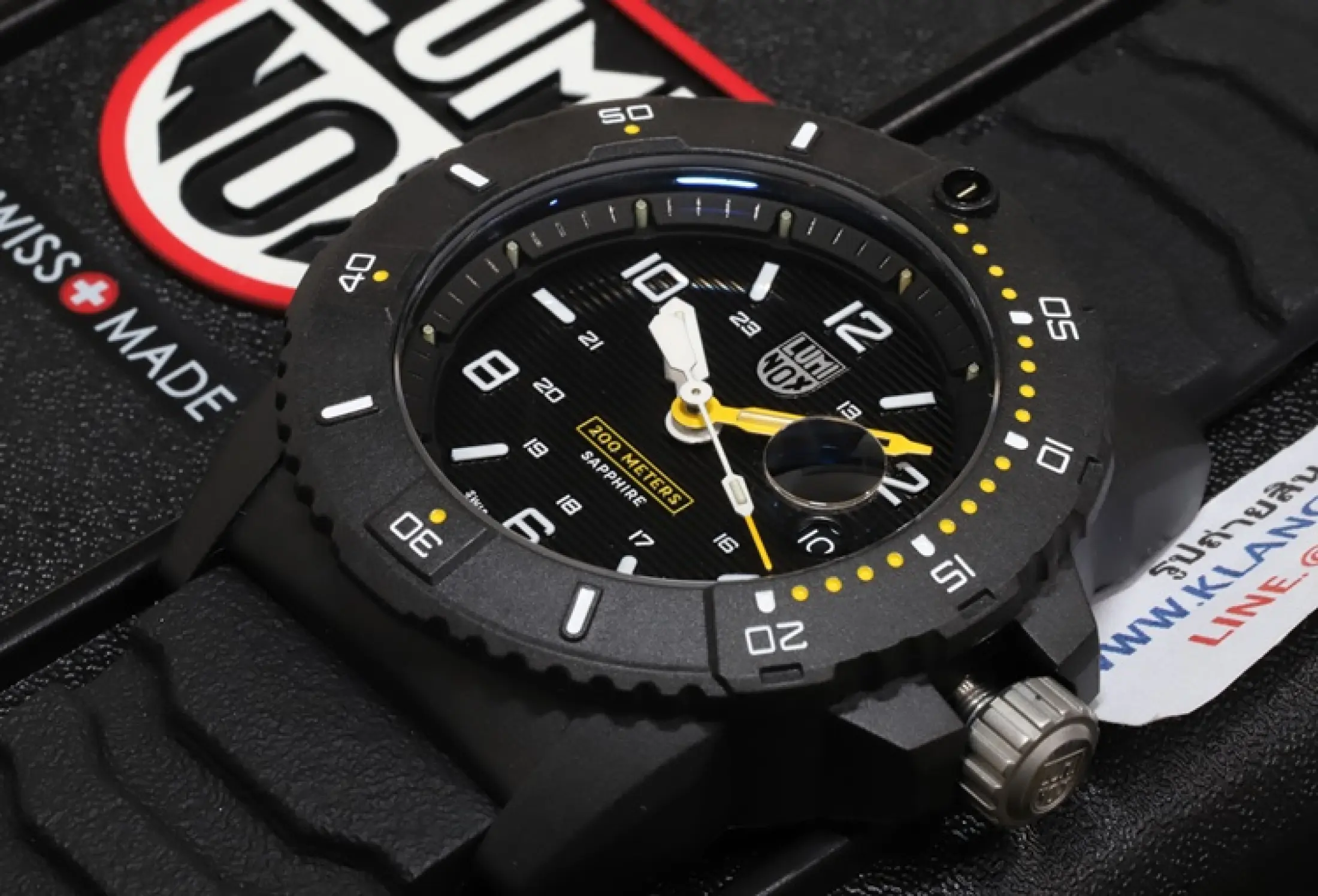 Specifications
| | |
| --- | --- |
| Size/Diameter | 45mm |
| Water Resistance | 200 meters, 20 ATM, 660 feet, individually tested |
| Movement | Ronda 515 hand height 6 |
| Battery/Battery life | 395 / 50 months |
| Case | CARBONOX™ case |
| Bezel | CARBONOX™ bezel |
| Case back | 316L stainless steel, screw-in |
| Crystal | Sapphire crystal with anti-reflection coating, with magnifying glass at the date window |
| Crown | 316L stainless steel, screwed down, protected crown |
| Height | 14mm |
| Weight | 73grams |
Quality and Durability
This waterproof watch is durable as it uses a CARBONOX™ case and bezel as well as sapphire crystal. Some of its hallmarks are the stamped dial and even-numbered hours. On the wrist, the Carbonox case sits comfortably as expected. It is large, yes, but not overly so.
We also especially like that it is extremely lightweight. It may not be great for everyday use as other everyday watches, but it can be your ultimate adventure or weekend watch.
Of course, it would not be a US Navy Seals Luminox watch without the tritium tubes in the dial, glowing without a light source or external charging for up to 25 years. The tubes are vertically oriented and create 12 "dots" surrounding the dial. We find it a cool visual effect.
General Care and Maintenance Guidelines
Just like other pieces of equipment, Luminox recommends you do periodic maintenance on your timepiece.
Cleaning – For cleaning, rinse your US Navy Seals watch in freshwater occasionally to remove sediment or other material that may accumulate underneath the bezel or on the watch case during use. This is most especially the case if you immersed this United States Navy Seals watch in saltwater.
Crystals – Although sapphire glass crystals are highly resistant to scratches, a loose, chipped, or cracked crystal needs to be replaced immediately.
Warranty/ Return Policy
The limited warranty runs for a 2-year period from the original date of purchase from Luminox's authorized dealers. The warranty for the Luminox Light Technology (LLT) runs for 10 years.
For any malfunction in workmanship and materials during the warranty period of the watch, it will be repaired by Luminox free of charge. You'll only be asked about the warranty certificate as well as the watch itself.
For more information about the Warranty and Return Policy, you may email Luminox's authorized repair and service center: The Saltzman's Watches & More, Inc. Their email is customerservice@saltzmans-watches.com or visit their Warranty & Repair Service page here.
The 3600 Navy SEAL Watch: Who is it Best for?
The 3600 Navy SEAL Watch is best for sports enthusiasts, professional divers, those in the special military forces and law enforcement, or just ordinary people who love to be outdoors! Because this watch is almost weightless and water-resistant, it's easy to move around with this watch even in poorly lit environments.
This model is focused on legibility, accuracy, and durability so it can function well in different domains!
What Do People Say About it?
Amazon
An Amazon buyer was pleased with his purchase and reviewed, "This watch is a really good looking piece. The blue on blue really stands out. Getting lots of compliments. Owning several Luminox pieces, these are very well built watches, so this watch will be around for a long time."
Another buyer also gave it a 5-star rating on Amazon and left this product review: "You can immediately tell that it is a high-quality timepiece. If you are looking for something that is lightweight, durable, accurate, and still has a very clean look, look no further. This watch is everything you would expect from a Luminox and this version is especially nice."
YouTube
Peter Kotsa from Melbourne purchased the 3601 Navy Seal and he said "It sits well [on my wrist]. Something like this you'd probably wear in summer. [It has a] really comfortable strap… The combination of the materials used and the lightweightedness of this watch is what makes it a good pleasurable experience."
The Time Teller, who gives such high praise to his favorite Seiko Tuna watch for being "the pinnacle of Quartz success," gave a different opinion on the Luminox Navy Seal watch because it does not have a threaded crown. "When I first started out watch collecting, I had a couple of Navy Seal Luminox watches. And I thought they were super badass. But as I learned more about what makes a durable watch, the less I thought of Luminox as a true tool watch and the more it became more of a toy.
I know people are gonna bark at me through the comments. There are a lot of watches that are less expensive than this. They do have the same water resistance rating and are also tougher than this because they have a threaded crown."
Reddit
In one Reddit thread about watches, a participant wrote, "The Luminox Navy Seal watches are very popular and known for their clean, simple design."
A college student also shared the time when he purchased a Luminox watch. He said, "I have had many Timex watches that were all really good to me, but I wanted something a little fancier. I came across Luminox and really liked the style of watches they had but unfortunately, they were out of my price range [while] still in college…
I ran by the store to just look at watches and see what they had and stumbled across this series. It was $250 which put it in my price range compared to the other ones. Haven't had it for long but am really happy with it so far," he continued.
Other Notable Luminox Watches
Aside from the dive-purpose and Navy SEAL watches, there is also a selection of Luminox watches that may suit your taste. For instance, we like their Survival Series Watches, Bear Grylls Survival Land Watches, Atacama Field Collection, Automatic Land Watches, and the Ice Sar Collection.
This Swiss-made timepiece is highly durable and with a time and date window. It's truly a watch that captures the quality construction and aesthetic of military watches.
Great for outdoor adventure, this watch features 300-meter water resistance and SOS in Morse code.
This modern timepiece comes in a lightweight carbon case and a sapphire crystal. It features a unidirectional rotating case and belongs to a collection of official partner timepieces of the Icelandic Association for Search and Rescue (ICE-SAR).
Final Verdict: Should I Buy It?
Yes! No double about it. This watch is something we would highly recommend. It does not use a hardened mineral crystal, but a sapphire crystal.
This means that it is extremely scratch-resistant and strong. This same material makes it the top choice for a fine watch.
What's also unique about this watch is that it does not use phosphorescent paint on the markers that other watch brands do. Instead, it produces a luminous effect using its Luminox Light Technology. It does not even need external light sources for the LLT to work. It's constructed so the watch lights up for up to 25 years!
The overall effect of this watch is like other Luminox watches. It's remarkably easy to read the time like it left a zero margin for error when it was designed. It seems to us that professionals can rely on this watch.
Weighing only 73 grams and with a height of 14mm, plus it is water-resistant to 300 meters, the features of the Luminox Watch are comparable or may even surpass other high-performance sports watches in the market today!
Truly, this model is worth adding to your watch collections.
If you like this review, you might want to read our other reviews at EvesWatch.com.
My name is Eve Acosta and I'm the person behind this site. Watches are what get me ticking ;).
No, but seriously, I just love watches, I have over 30 myself. It's an obsession of mine, which is why my husband recommended me to put my hobby into some good use and build this site – so I did.
My passion for timepieces came from the fact that my parents own a small chain of shops selling timepieces. I've worked at the shop since I was 11 and fell in love with the merchandise.