Disclaimer: Eveswatch.com is reader-supported, meaning that I may include affiliate links in my articles for which I may receive compensation without any additional cost to you. As an Amazon Associate I earn from qualifying purchases.
It's a world full of remarkable watches, history, and incredible stories. We combined all these factors together and came up with a list of the best vintage watches from a select group of brands.
While some vintage watches are priceless, there are still some that are affordable. As such, we bring you the best vintage watches under $1000 to learn everything you need to know before you buy.
If it's truly a high-end timepiece you're looking for, forget the flashy and luxury timepiece, and go old-school with these unique vintage watches!
Top 5 Best Vintage Watches Under $1000
1. King Seiko/Grand Seiko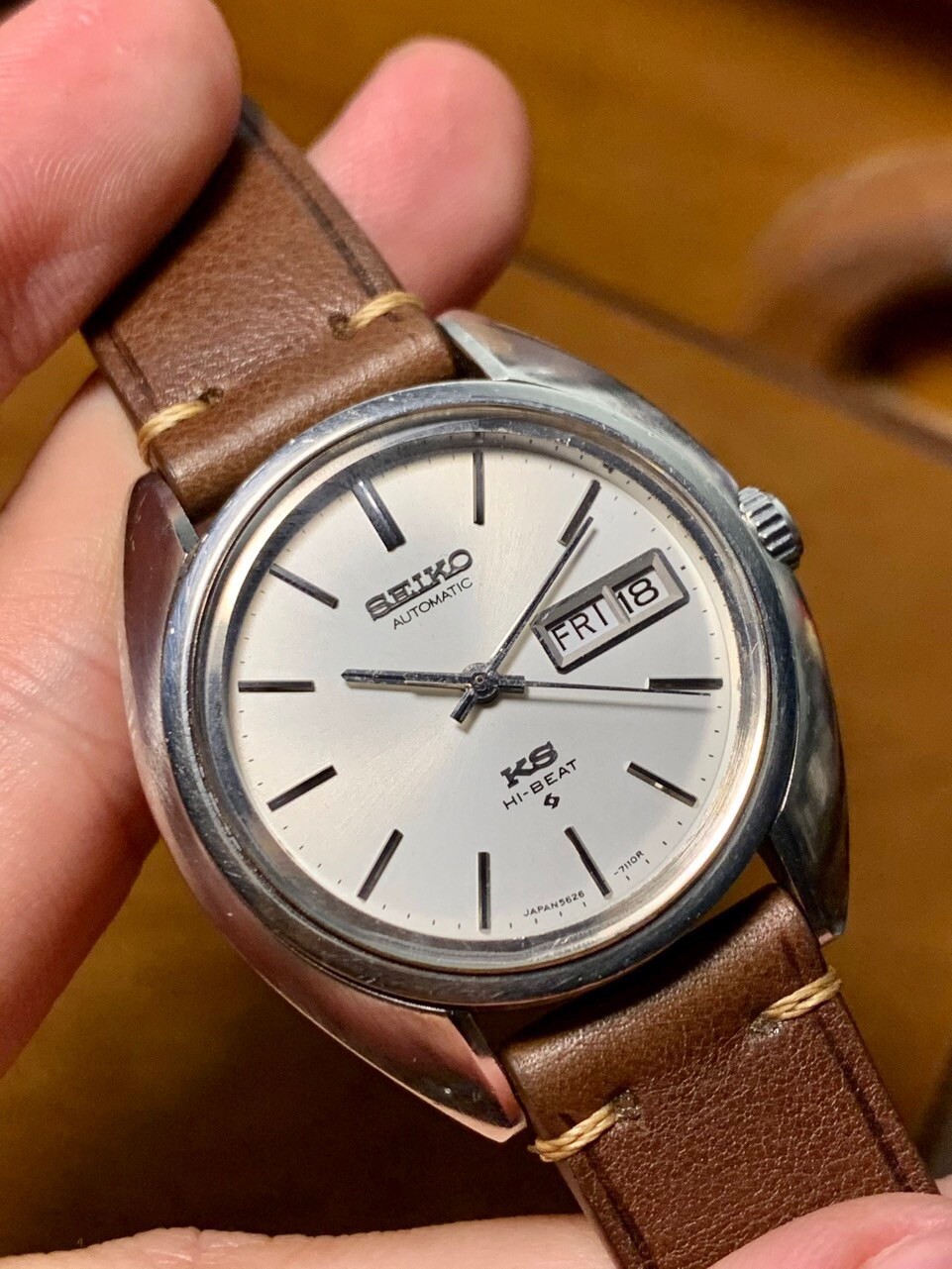 Product Description
If there's one word to describe King Seiko, it would be "art." Why, you ask? It's because it's really a piece of art!
From casework to movement and even down to its history, it's a masterpiece.
King Seiko's design may not be preferred by others (because of its size), but this 35mm watch is one of the best vintage watches below $1,000.
The earliest model of King Seiko was produced in 1936, as a result of an in-house competition between Diani Seiko and Suwa Seikosha factories.
A few years after the release of the original Grand Seiko, the first generation of King Seiko was also produced. A unique feature of this watch is the unnumbered 25-jewel caliber.
Today, there's even a King Seiko 2021 recreation (limited edition vintage piece) in celebration of Seiko's 140th Anniversary.
Pros
High-quality construction
Graceful design
Unique angular profile
With contemporary feel
Super-hard coating protects the vintage watch from scratches
Hi-Beat
Con/s
Some may find the 35mm case size small
Interested? Click here to buy it!
2. Omega Cal 266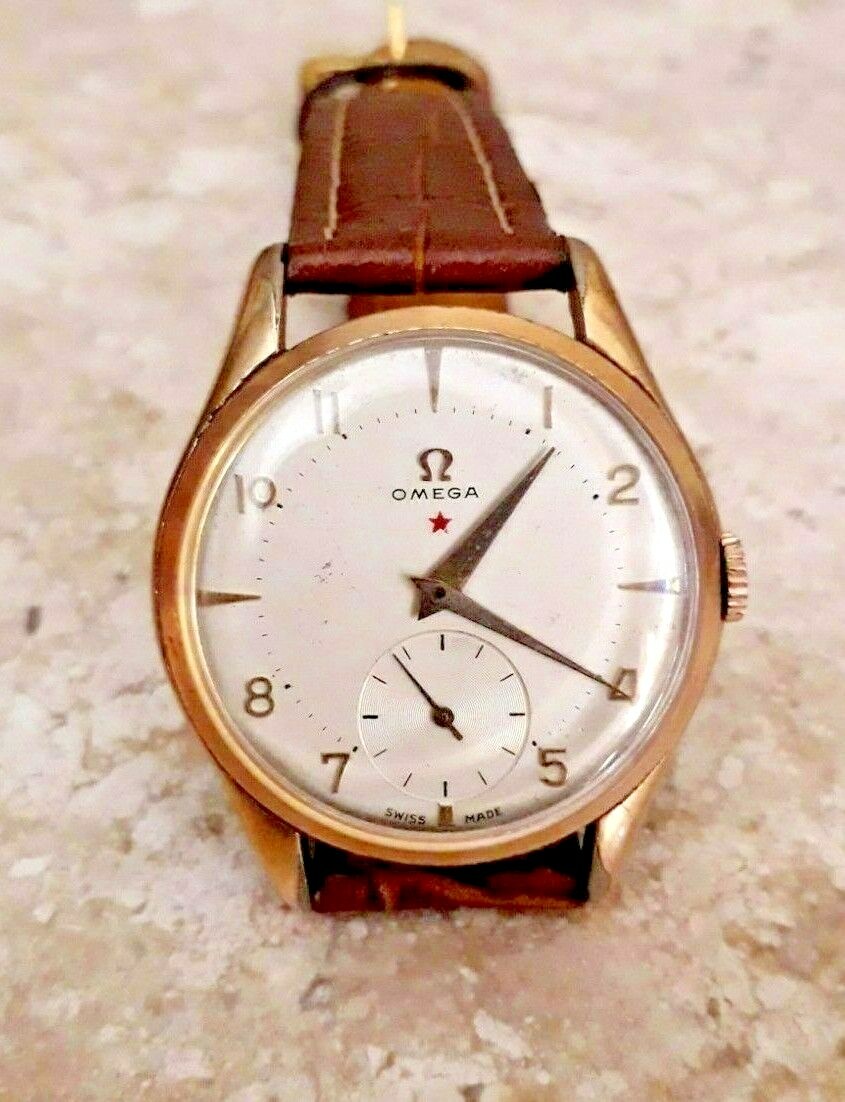 Product Description
Omega Watch & Co. is a prestigious watchmaker with a storied history, such as being the official timekeeper of the Olympic Games.
During World War I, Britain's Royal Flying Corps (army) also wore Omega wristwatches. That is why we did not miss including a vintage model from this company.
So, next on our list of the best vintage watches under 1,000 would be the Omega Cal 266. It's a simple, yet stunning time watch.
Featuring the Omega flagship Calibre 266 version, this vintage pre-owned watch is famous for its hand-wound movement. It was also produced in 1939.
With its classic look (slightly off-white dial) at a price below 1,000, this makes this model a great addition to your watch collection. You may find this Omega Cal 266 on eBay.
Pros
Contains original Omega 17 Jewel
Features a gold plated case
Gold plating case finish
Analog display
Has Arabic numerals, second hand as its indices
Recognized brand
Con/s
Shows signs of age due to normal wear
Like what you see? Buy this product here today!
Product Description
The Tag Heuer 1000 constantly grabs the headlines with its historic chronographs. It even grew in popularity after it appeared in the movie Wolf of Wall Street, particularly as it was worn by Leonardo Di Caprio.
What's unique about this great watch is that it was released during a pivotal time for the Tag Heuer brand.
During the late 1970s, a majority of Tag Heuer mechanical chronographs had been discontinued because of the quartz crisis. The watch and stopwatch business kept the company afloat, but it needed a sales hit.
That was when they introduced a diving watch in the form of the Heuer 1000 series. It consisted of over 30 different models in stainless steel case and band and some solid gold models, easily recognized by their "nipple" hour-markers.
The Tag Heuer 980.020L became the basis soon for what would become the Tag Heuer 1000.
Pros
In pristine condition
Stainless steel case and bezel
Robust
Design is a combination of vintage and modern look
Good value for money
Don't miss out! Buy this product here before it's gone!
Product Description
This timepiece is best for people who love watches or consider watch buying a hobby. The first thing you'll notice in Vulcain Cricket is that it's not a small watch. 
Though its 34mm case size can be comparable to Speedmaster Professional watches, the watch still appears to be larger.
Probably it's due to its thin bezel and round symmetrical case. Then, big Roman numerals are positioned at 3, 6, 9, and 12 o'clock.
The case of this Vulcain Cricket watch with snap back is made of stainless steel. This watch also features a central second, alarm, and acrylic crystal.
Pros
Modern-sized case with a lot of details
Has nice sharp edges and corners
Original dial in very good condition
Rare model
Gloss case finish
Unique champagne, silver dial color
Stainless steel case material
Con/s
Ready to buy it? Check out this link today!
5. Swiss Military Incabloc Vintage Watch
Product Description
If you prefer vintage Swiss watches, then the Swiss Military Incabloc Vintage Watch should be on your list. It has a two-tone silver dial with hands and radium numbers.
It comes at an affordable price point compared to other vintage pieces. We also like that its dial features the Incabloc designation, which signifies a patented "shockproof mechanism."
Based on the history of this watch, the Incabloc was developed and patented in the mid-1930s.
Meaning to say, if you own this watch now, you'll ensure that it has that original shock-proof spring-loaded mechanism that was meant to avoid damage to the timepiece when dropped.
Pros
Swiss brand
60+-year-old watch
Accurate timekeeping
NATO style strap/ sporty leather
Features original luminous hands and dot subsidiary seconds
31mm case size
Con/s
Manual wind movement; it would have been nice if it featured automatic movements, especially if you're buying this not just for collection but for use.
Convinced? You can buy the product here! 
Honorable Mentions: Other Vintage Models Worth Checking Out
Bulova US Military Issue A17A (or similar)
Also one of the great options for vintage watches, the Bulova US Military Issue A17A has a brushed non-reflective case with an original 24-hour radium dial and pencil hands.
Tissot Navigator Chronograph
This is a sporty chronograph created in the 1970s. It has a unique shape and great looking black dial.
This is among the watches that have a cool story and is aesthetically pleasing and its price can be bought for less than $1,000 too!
What to Look for When Buying Great Vintage Watches Under $1000
For the uninitiated, buying a vintage watch can be like a minefield, such that there are important things that you need to consider aside from budget/price to make sure that you're making the right decision.
So, we put this guide for you when buying vintage wristwatches or pocket watches under 1,000!
Polishing
Look closely at the watch polishing. If possible, you want the lines not to be (recently) polished but sharp. This is because when you polish, the watch loses its original lines and shape.
Your goal should be that the watch appears as it was when it left the factory a few decades back (original polishing). For instance, the Japanese back then used the popular Zaratzu polishing techniques that made their unique selling points.
Old-School Features
Before there were smartwatches, people had to rely on their wristwatches for multi-functionality.
That is why even vintage models of watches (whether that be Swiss, US, or Japanese watches) have pretty cool features too! When buying a vintage watch, look for old-school features.
For example, Longines, Omega, Bulova, Rolex, and Patek Philippe have vintage timepieces with built-in pulsation dials.
This was a stint during the 50s and 60s. Other old-school features, even in pocket watches, are race track stopwatches and pilot navigation tools.
Condition/ Signs of Wear
Look for the condition and general signs of wear of the watch, most importantly on the glass. It may not be a major deal since you can fit it with a new glass piece, still, look for signs of wear on the bracelet and case because these areas are not easy to repair.
Bottom line: Which One Should You Buy?
New watches created by luxury brands are now worth tens of thousands and the vintage timepieces are not even getting any less expensive. So, it's a great deal to buy these affordable watches that still deliver incredible value.
But if you ask me what I consider the best watch on this list, then my top pick would be the Original Grand Seiko. It's in good condition, has a combination of modern and vintage look, a unique piece, comes from a sought-after brand, and within the 1,000 budget.
The Grand Seiko is also an ideal watch with standards of beauty, durability, quality, and precision.
The first Grand Seiko quartz watch introduced in the 1980s even delivered an accuracy of 10 seconds per year, which is way better than other quartz movements of today's watches.
All the vintage watches here are independently selected by our team and upon considering online reviews, price, and popularity of these timepieces.
If you like this review about vintage watches, you might want to read our other reviews at EvesWatch.com.
My name is Eve Acosta and I'm the person behind this site. Watches are what get me ticking ;).
No, but seriously, I just love watches, I have over 30 myself. It's an obsession of mine, which is why my husband recommended me to put my hobby into some good use and build this site – so I did.
My passion for timepieces came from the fact that my parents own a small chain of shops selling timepieces. I've worked at the shop since I was 11 and fell in love with the merchandise.