Disclaimer: Eveswatch.com is reader-supported, meaning that I may include affiliate links in my articles for which I may receive compensation without any additional cost to you. As an Amazon Associate I earn from qualifying purchases.
Some people love automatic watches, and what's great about this kind of timepiece is that they don't need batteries to operate.
Automatic watches or self-winding watches get the energy from the gesture or movement of the wearer, making manual winding unnecessary if worn enough. This means that since there is no battery, it has an indefinite life span. 
In this article, we've listed the best automatic watches under the $200 price range. This is definitely a bang in the buck!
So, if you are interested to know more about it, keep reading as we provide you an in-depth review so you will have an idea which of these automatic watches will best suit you.
Best Automatic Watches Under 200
Product Description
Created by one of the most popular watch manufacturers "Seiko". This Japanese watch brand has been creating affordable watches yet with precise, reliable, and excellent build quality since 1881.
Seiko Men's SNK809 5 Automatic Stainless Steel Watch is praised by watch enthusiasts for its great price and unique design. It has a 37 mm case size with black dial color that features white Arabic numeral hour markers on the inner circle and minute markers on the outer, protected by a dial window made with hardlex mineral crystal.
This timepiece has an accurate 21-jewel automatic movement with analog display, a day and date function that is set at three o'clock, and luminous markers to help you check the time easier even when it's dark.
It has a durable stainless steel case with a black nylon strap and a traditional buckle clasp that ensures safety when worn.
Specifications:
Model: SNK809K2
Movement: Automatic movement
Case thickness: 11 mm
Pros
Water resistance up to 100 meters (30 feet)
Perfect for everyday use
With up to 40 hours of power reserve
The case diameter isn't that huge – perfect for people with small wrists
Skeleton case back
Cons
Not suitable for swimming and shower
Some find the strap uncomfortable and prefers a leather strap instead
Interested? Check it out on this link!
Product Description
Invicta Pro Diver 40mm Stainless Steel Automatic Watch features a design that looks so much like that of the "Rolex Submariner".
If you are someone who loves sea adventures, this watch is ideal for you.
This Invicta dive watch has a 40 mm case diameter and a face watch made from a scratch-resistant mineral crystal. It features a black dial color with tritnite coated luminous hour markers and a magnified date function set at the three o'clock mark.
It has a unidirectional bezel movement that is used to measure time spent underwater and a screw-down crown that helps prevent water from getting inside.
Its round stainless steel case and highly durable triple link stainless steel bracelet make it look elegant and classic, which will surely level up your style and outfit.
Specifications:
Model: 8926OB
Movement: Japanese Automatic
Case thickness: 40 mm
Pros
Water-resistant up to 200 meters (660 feet)
Exhibition case back
Excellent build quality
Suitable for diving and other water activities
Budget-friendly
The band can be adjusted by removing links.
It has luminous hands and an hour marker
Cons
Some find it bulky on the wrist

Interested? Check it out on this link!
Product Description
Another manufacturer that offers great quality timepieces with an unwavering style is Orient.
Orient Men's 'Mako II' is among the crowd's favorite when it comes to automatic dive watches because of its affordable price point.
It has a case diameter of 41 millimeters. You may also choose from either black or blue dial color or a two-tone bezel with a rich blue sunburst dial, Its face watch is made from a mineral crystal that is resistant to scratches. For added convenience, it has a day and date window at the three o'clock marker. This astounding watch has a power reserve that can last up to 40 hours.
Since it is a dive watch, It features a screw-down crown that is necessary for a water-tight seal that allows you to move underwater without worry and 120 clicks unidirectional bezel.
The strap is made from durable stainless-steel bracelets and a double push-button safety clasp that can blend well with formal or casual attire.
Specifications:
Model: FAA02009D9
Movement: Japanese Automatic Movement
Case thickness: 13 mm
Pros
Excellent luminous hands and hour markers
Great watch for its price range
Water-resistant up to 200 m
Cons
Not an ISO certified divers watch
Some find it too large
Interested? Check it out on this link!
Product Description
Dress watches are known for their simple and minimalist look that will surely level up your style. A great example would be the Orient 'Bambino Version 5' watch.
It has its signature domed mineral crystal case and a standard 40.5 mm width case size. It also has a date function indicator at the three o'clock marker.
What we love about this is that they offer a wide variety of colors and designs to choose from. You can go with either their minimalist classic bar index markers or an Arabic Numeral marker. You can also choose from different dial color options such as black, blue, or white. They also offer both leather bands or stainless steel bracelets.
This is truly a timeless timepiece.
Specifications:
Model: RA-AC0007L10A
Movement: Swiss Automatic
Case thickness: 12.8 millimeters
Pros
Exhibition case back
Water resistance up to 30 meters (100 feet)
Minimalist look
Cons
Not ideal for water activities
Non-luminous hands
Interested? Check it out on this link!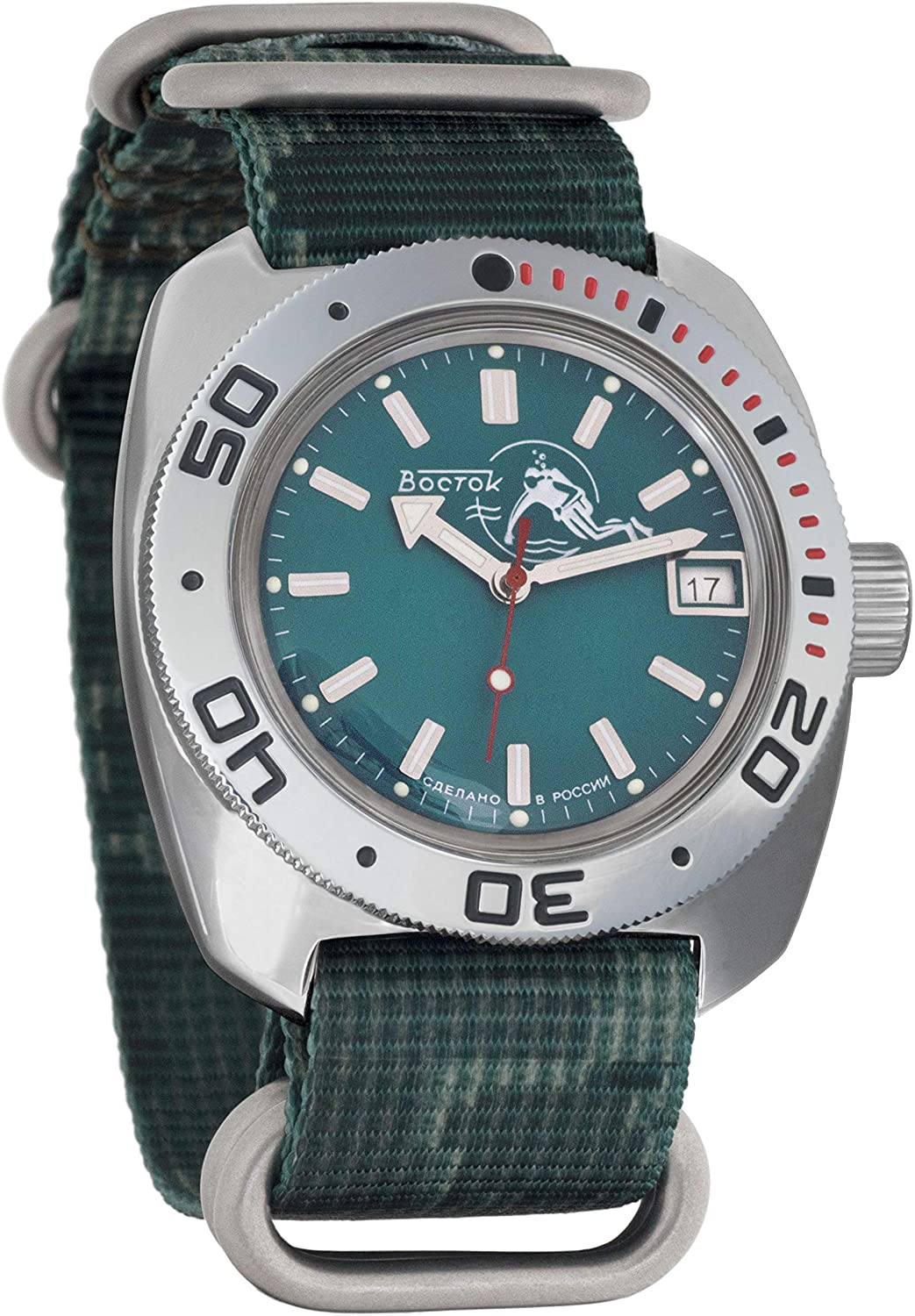 Product Description
If you are looking for something different yet with an excellent quality build, Vostok Amphibian Automatic Self-Winding Russian Military Wristwatch is for you.
This watch is made by the official supplier of the Defense Department of the Soviet Union and Modern Russian Army.
This automatic self-winding movement is driven by 31 ruby jewels that can last at least 31 hours when fully wound.
It has a case diameter of 41 mm and features the unique scuba dude drawing on the dial. With anti-shock property and luminous hands and hour markers. It also has a date window located at the three o'clock marker.
You also have the option if you prefer Nylon straps or a stainless steel case bracelet.
Specifications:
Model: 710059
Movement: automatic
Case thickness: 15 millimeters
Pros
Offers 22 colors and design to choose from
Unique design
Water-resistant up to 200 meters
Luminous hands and hour markers
Affordable price range
Cons
Interested? Check it out on this link!
What to look for when buying
1. Fits your style and personality
When buying a watch, it is important to choose something that will fit your style and personality, whether you prefer a leather band, nylon straps, or stainless steel bracelet, something that looks simple, sporty, or luxurious. Always choose something that will make you feel confident when worn.
2. Reliability of Brand
It is best to choose watches that are manufactured by reputable brands, brands that are known for producing high quality and reliable timepieces, this can keep your watch last longer.
3. Features
Additional features of a watch can add convenience to the wearer, examples are having luminous hands and hour markers as this can be useful even when worn at dark, day and date window as you don't have to look for a calendar to know the date, and water-resistant property to avoid getting damaged when caught on water accidentally.
Final Verdict: Which One Should You Buy?
The automatic watch that really stood out among all listed above is the Invicta Pro Diver 40mm Stainless Steel Automatic Watch.
Aside from being the most affordable among all mentioned, what we love about this is its outstanding performance. This watch is perfect for both your land and water adventures.
It also has a luxurious and classic design that anyone will surely admire.
If you liked this article, you might want to read our other reviews at EvesWatch.com
Similar Articles:
My name is Eve Acosta and I'm the person behind this site. Watches are what get me ticking ;).
No, but seriously, I just love watches, I have over 30 myself. It's an obsession of mine, which is why my husband recommended me to put my hobby into some good use and build this site – so I did.
My passion for timepieces came from the fact that my parents own a small chain of shops selling timepieces. I've worked at the shop since I was 11 and fell in love with the merchandise.